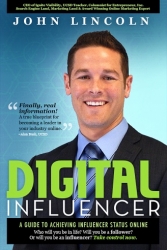 San Diego, CA, February 02, 2016 --(
PR.com
)-- John Lincoln, CEO of Ignite Visibility and a digital marketing teacher at the University of California San Diego, has officially made his upcoming ebook available for pre-order online.
Digital Influencer: A Guide to Achieving Influencer Status Online
is a comprehensive, step-by-step guide that teaches people how to achieve influencer status. The book is now available for pre-order via Amazon.com. In an effort to give back, Lincoln has also announced he will be donating 100% of all proceeds from the sale of the first 1,000 copies of the book to charity.
"The goal of the book is to help people. There is a major demand for this information. But I also wanted to further the book's ability to help others by donating the money from the sale of the first 1,000 copies to families where a member is struggling with cancer. When someone buys the book they will be helping themselves, as well as a family in need," commented Lincoln.
As an award winning digital marketing expert, John Lincoln has worked with more than 400 online businesses and generated millions in revenue for clients. He is a columnist for Search Engine Land, Marketing Land, Search Engine Journal and Entrepreneur Magazine. He has also been featured in Forbes, CIO Magazine, Good Morning San Diego, the Union Tribune and other major publications. He has coached hundreds of people on how to become digital influencers. This ebook puts his comprehensive knowledge in one place.
In his recent interview with Inc. Magazine, Lincoln describes the purpose of the book best.
"I knew this information was highly desired and would solve two major issues. Issue one, if you have all the qualities of an influencer, how do you bring that online and leverage the power of the digital powerhouse that the internet is? The second issue, if you are a new college grad or someone stuck in a dead-end job with no advancement potential, how do you breakout? This book solves both these issues and more. It is the only work of its kind and in classic influencer fashion it gives away almost too much. The book provides the keys to influencer success. I am excited to help those who want something more!"
Lincoln feels that too often people believe that influencers are born and not made. He says that is just not the case. Anyone can become an influencer and can do so much more quickly if they know the right steps to take and have the desire.
The four chapter eBook covers the following topics.
Chapter 1: Developing an Influencer Mindset
Critical Components to Becoming a Real Influencer
Three Types of Influencers − Who Will You Be?
The Science and Psychology of Influence
How You Can Use Targeted Content to Grow Your Influence
Chapter 2: Becoming an Influencer
How to Gain Influence Through Blogging
Secrets to Guest Posting Like a Pro
How You Can Use SEO to Drive Your Authority
Be Innovative, Have Something to Say and Be Listened To
Why and How You Need to Educate Others
How to Befriend Influencers and Leverage Each Other
Social Media Sites You Should Be Looking At
Be Smart with Your Time, Select Sites that Matter
Chapter 3: Getting Advanced, Getting Innovative, Getting Seen
Smart Tools to Give You the Edge Most People Fail to Find
Why You Will Lose Without Social Media Ads and Where to Run Them
Using the New Wave of Native Advertising to Get Content over Ten Times the Reach
How You Can Use Viral Marketing Concepts for Exponential Reach
Chapter 4: Your Personal Plan of Action
The Most Important Part: Creating Your Influencer Plan of Action
Influencer Self Evaluation: Must Ask Questions
The Timeline: Review, Absorb, Customize, Become
Final Takeaways
In Digital Influencer, readers can expect the engaging, no nonsense approach that Lincoln is known for. They can also expect an action plan. The ebook is available now for pre-order via Amazon.com: http://www.amazon.com/Digital-Influencer-Achieving-Status-Online-ebook/dp/B01B6WT7K4/ and will go live to the public on February 16th, 2016.
About John Lincoln
John Lincoln is CEO of
Ignite Visibility
and a digital marketing teacher at the UC San Diego. Lincoln has worked with over 400 online businesses and has generated millions in revenue for clients. He is a noted author on Entrepreneur, Search Engine Land and Marketing Land and has been awarded top conversion rate expert of the year, top SEO of the year, best social media campaign of the year and for his work in social media and analytics. In 2014 and 2015, Ignite Visibility was named #1 SEO company in California and top 2 in the nation, as well as a top 10 pay per click company, social media company and marketing company in the nation.