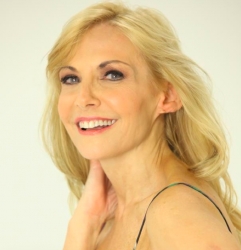 Miami, FL, February 08, 2016 --(
PR.com
)-- Hispanic talk show host, Maria Laria, has come out with her latest novel "Fear of Love." Laria, who has many talents such as being an executive producer, television hostess, concert pianist and classical ballet dancer, has written a captivating novel filled with passion and great conviction, motivating the Hispanic community to never give up on their dreams or on love.
With Valentine's just around the corner Maria Laria, a professional concert pianist and TV talk show host, has written a unique and powerful love story. A red carpet event was held inside Kitchen 305 to launch her latest novel where numerous TV personalities came out to support her latest creation.
It was her vast experience as a pianist, dancer and TV talk show host for Arrebatados on America TV, that drove her to write "Fear of Love," a captivating novel that encourages those who have given up on love to want to pursue it again. Maria Laria's novel "Fear of Love" is about Jeane Claude (the main character) who is an acclaimed concert pianist. Though talented and accomplished, he is a lonely soul tortured by childhood memories. He remains aloof and alone, traveling from city to city, pursuing one-night stands, avoiding stable relationships. But when he stumbles upon Paulina, a beautiful and sensual ballet dancer, he struggles to maintain a safe distance. Something is different this time-a powerful attraction he's never experienced before. To heal his spirit, Jeane Claude must engage in a hellish life struggle to face his fear of love.
Maria Laria is an exemplary role model for not just women everywhere but to the rest of the Hispanic community. Just as she does through her TV show, Laria hopes to motivate the broken-hearted folks to once again put faith in love and give it another try.
Maria Laria's book Fear of Love can be found in Amazon.