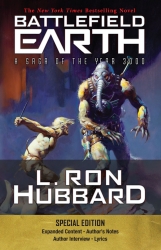 Hollywood, CA, February 09, 2016 --(
PR.com
)-- L. Ron Hubbard's international bestselling novel Battlefield Earth is being released nationally as a commemorative edition by Galaxy Press this coming Father's Day, and includes a special dedication to the writers and editors who made science fiction's Golden Age a reality.
In a 1983 interview with the Rocky Mountain News, done when Battlefield Earth was first published, Hubbard commented on the period known as the golden age of science fiction, "Those of us who were there writing during that period have a unique viewpoint because we were there. 'Golden age' was a later characterization. At the time, it meant simply an explosion of interest and opportunities."
And so the dedication to "Battlefield Earth"
(www.galaxypress.com)
is singularly unique in that L. Ron Hubbard recognized 87 individually named writers and editors of the 1930s and 40s who were all part of that explosion.
The dedication simply reads, "This brand-new novel is dedicated to Robert A. Heinlein, A. E. van Vogt, John W. Campbell, Jr., and all the merry crew of science fiction and fantasy writers of the thirties and forties—The Golden Age—who made science fiction and fantasy the respected and popular literary genres they have become today." In defining that merry crew, Hubbard proceeds to list an additional 84 names.
Hubbard continued, "Some who wrote the pulps were called 'just science fiction writers.' But history has proven that they were the ones who brought about the future—not the naysayers. We knew then that Man would travel to the stars and we know it still."
Concepts coming to fruition or now gaining widespread scientific recognition—ranging from microchip implants, robot drones and teleportation to the existence of other planets at the rim of the observable universe—were initially conceived of and written about decades ago by science fiction writers such as Philip K. Dick, Robert Heinlein, L. Ron Hubbard and H.G. Wells.
The June commemorative paperback edition of "Battlefield Earth" will be available at GalaxyPress.com, Amazon.com and BN.com and will contain expanded content including author's handwritten notes and an author interview. The 47 ½ long audiobook is the longest fiction multicast audiobook ever produced comprising 67 actors performing 198 different characters with a soundscape employing over 150,000 sound effects and over 3 hours of original music created for the audiobook.
For more information about "Battlefield Earth" and the upcoming release, go to www.GalaxyPress.com.