Dartfish Launches MyDartfish Mobile Video Coaching Solutions Connecting Coaches and Athletes at All Levels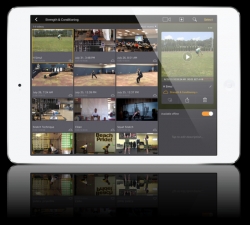 Alpharetta, GA, February 09, 2016 --(
PR.com
)-- Dartfish announces the launch of MyDartfish, a new set of mobile video and smart cloud services, for straight forward sharing of detailed video analysis between coaches and athletes. Content creators now have a fantastic way to assure their videos and stats are watched or analyzed in depth with detail.
MyDartfish enables sports professionals and practitioners to take their video content use to a different level. Dartfish Express, an award winning video analysis app, can now be connected to a smart cloud where enriched videos can be easily shared across communities, devices and now on Dartfish.tv channels, where videos can be consumed in a new way. Users can watch their favorite game or practice videos in super slow motion and add their own analysis, as needed.
Dartfish Express, developed by Dartfish, is a globally acclaimed mobile coaching tool, empowering coaches and athletes in any sport to easily record and analyze performance. Using their device's built-in camera to conduct very detailed slow motion or frame-by-frame analysis, they can verify proper form and technique -- and just as importantly, spot and fix errors.
"Since its initial release, Dartfish Express has emerged as a globally trusted and acclaimed mobile video coaching app for all sports, including baseball, softball, golf, tennis, track and field, swimming, weightlifting, fitness training, football, basketball, gymnastics, skiing and more," states Victor Bergonzoli, Dartfish CEO. "This new offering brings the experience to an entirely new level and our smart cloud makes the analysis, back-up, viewing and sharing of videos a unique experience for all coaches and athletes."
To learn more about this new offering, visit
www.dartfish.com
About Dartfish
Dartfish develops video solutions to make the power of video accessible to millions of users and empowers them to create, analyze, enrich, publish, and monetize video content. Dartfish is trusted by thousands of sport organizations to create, analyze and distribute video content. It sets the video standard across sport, education, and healthcare industries. Its video platform, http://www.dartfish.tv is today's trusted choice selected by elite organizations, federations, and corporations from around the world. Dartfish is privately held, with Worldwide Headquarters in Switzerland, and U.S. Headquarters in Alpharetta, GA.
For additional information, visit http://www.dartfish.com
Contact
Dartfish
Lani Hosley
1-404-685-9505
www.dartfish.com

Contact