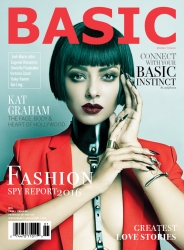 Beverly Hills, CA, February 11, 2016 --(
PR.com
)-- The first issue is currently available digitally and on select newsstands worldwide. The luxury publication blends the boundaries of art, fashion, media and film, highlighting the most creative and artistic projects throughout the globe. The rich and relevant content is primarily created in-house, making each issue an art piece collective in itself. The stunning pictorials and smart editorial content make for a sparkling and entertaining display.
The magazine will make its official debut at the Pre-Oscars launch party at The Beverly Hills Club in Beverly Hills on February 19. The invite-only, creative black tie event expects to host celebrity guests, media and the magazines creative staff, CEO Viktorija Pashuta, Creative Director Amit Mehta, Managing Editor Mandi Pimental, Art Director Roberta Hall and Advertising Director Aman Segal, among others.
The visual and editorial quality of BASIC is first class and its pages are inspired by a blend of heroic artists, visual masterpieces and themes of strength that set the tone for each stylistic issue. It is a contemporary, elegant and inviting world that men and women can both relate to and aspire to be. Readers can enjoy sections that include BASIC Spy, one that explores the latest trends, BASIC Fashion, BASIC Beauty, BASIC Artwork as well as case studies and celebrity interviews that focus on the hearts of Hollywood. Contributors also include seasoned fashion professionals, beauty editors and photographers whose visions and projects work in concert with the BASIC aesthetic.
The first issue of BASIC
BASIC offers 172 pages of creative photography, interviews and editorials on the theme of Instinct. The strong textual BASIC logo reflects the style and strength of the magazine. The debut issue features two covers, one of musician and actress Kat Graham, the other of Instagram photography sensation Josh Mario John. The issue also introduces readers to the hottest designers, accessories and illustrations of Spring 2016, the #BasicPhoto creative viral video project, "WHAT IF CARS WERE SUPERMODELS," #BasicInterviews with inspiring stars such as Danielle Panabaker, Bai Ling, Eugenio Recuenco and many more. #BasicExperiment takes on a fun challenge as nine industry professionals give us a glimpse into their daily lives, while #BasicArt and #BasicInfluencers show us the most inspiring art projects and influencers in social media and fashion, respectively.
BASIC magazine on the Web
Online readers will be able to access a selection of the magazine's content via www.Basic-Magazine.com, which will also direct them to Magazine Access by clicking on the Magazine tab on the BASIC website. On social media, BASIC's presence can be found on all platforms @Basic_Magazine.
www.basic-magazine.com
For more information or press inquiries:
BASIC Magazine
Beverly Hills, California 90210
info@Basic-Magazine.com
www.Basic-Magazine.com