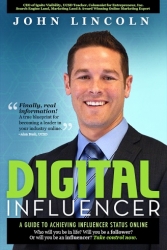 San Diego, CA, February 17, 2016 --(
PR.com
)-- "Digital Influencer: A Guide to Achieving Influencer Status Online" is now available to the general public. This comprehensive guide for people hoping to maximize their authority and influence online communities is being distributed via Amazon.com. Proceeds from the first 1,000 copies sold will be donated to families where a loved one is dealing with cancer.
John Lincoln, CEO of
Ignite Visibility
and a digital marketing teacher at the University of California, San Diego, was inspired to write this book because he knew it would help others.
"Students, employees and college grads are all looking for a way to stand out, accomplish their goals and attract business online. This book teaches them how to do just that. I've taken all of the best practices I use to help clients succeed and packed them into this book. Complete with action items and a timeline, the book can help any individual become a digital influencer," says Lincoln.
In his work with more than 400 online businesses generating millions in revenue for clients, Lincoln has published numerous practical articles and guides. He is a noted author for Search Engine Land, Marketing Land, Search Engine Journal, Inc. Magazine and Entrepreneur Magazine, and has also been featured in Forbes, CIO Magazine, Good Morning San Diego, the Union Tribune and other major publications.
"This process works. This book is a shortcut to reaching influencer status. Instead of wasting decades or even your entire life trying to figure out what you need to do, I'm just going to tell you how it works."
Well-known for his straight-shooting, easy-to-read style, Lincoln has defined his career and his ongoing professional mission as he has taught business owners and others to succeed and build authority online. His hope is to educate and inspire business owners and budding entrepreneurs, and Lincoln works toward this goal by writing extensively about generating organic traffic, improving SEO and using social media for business. Digital Influencer is his latest book, and it is written with the easy, no-nonsense voice that Lincoln is known for.
The eBook is now available to the general public via Amazon.com:
http://www.amazon.com/Digital-Influencer-Achieving-Status-Online-ebook/dp/B01B6WT7K4/
.
About John Lincoln:
John Lincoln is CEO of Ignite Visibility and a digital marketing teacher at the UC San Diego. Lincoln has worked with over 400 online businesses and has generated millions in revenue for clients. He is a noted author and has been awarded top conversion rate expert of the year, top SEO of the year, best social media campaign of the year and top analytics column of the year. In 2014 and 2015, Ignite Visibility was named #1 SEO company in California and top 2 in the nation.