iUniverse Publishes "Neo-Modernist" Novel by Robert Crooke
iUniverse called Sunrise "an entertaining, literate, moving, and witty tale…a clever re-imagining of The Great Gatsby."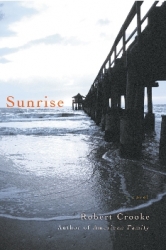 Lincoln, NE, December 29, 2007 --(
PR.com
)-- iUniverse, Inc. today announced the publication of Sunrise, Robert Crooke's compelling new novel, which it has made a "Publisher's Choice" selection. In conferring this seal of literary quality, highly regarded among booksellers, iUniverse called Sunrise "an entertaining, literate, moving, and witty tale…a clever re-imagining of The Great Gatsby."
Set in New York, and in the fashionable beach towns of Long Island's East End, Sunrise follows the interwoven lives of three friends from the late 1960s to the present, exploring the confluence of art, commerce, politics and celebrity along the way. Readers will find emotional power and narrative drive in this quintessentially American story. With its perfectly rendered physical setting, Sunrise draws readers into the reality of place and the universality of myth in a daring, Modernist style.
"I didn't seek out Gatsby as a subtext for my novel," Crooke explained. "It was more a case of that book, its insights and themes, finding me, guiding me to myself, confirming that I was on the right path artistically. Naturally, the mysterious and mythic aspects of the Long Island setting make a perfect echo between Fitzgerald's great work and my own homage to it. When my narrator says that Gatsby perfectly captures America in a moment's irreconcilable balance between disappointment and hope, he's saying something about our own time that I think is important.
"What I find compelling in Modernist fiction generally," Crooke said, "is the artistic space it gives a writer to explore complex moral and ethical concerns, without political or religious boundaries. The original Modernists like Joyce, Woolf, Hemingway and Fitzgerald, examined man and society with a sense of skepticism and ambiguity that was radical for their time, but in some ways very classical. Their work conveys the startling uncertainty of human existence, the tension between reason and irrationality found in the great classical writers. The fluid, non-linear sense of time by which Modernists are known makes them timeless.
"The great Modernists explored hypocrisies of social class, business, government, church and academe during the early 20th Century. And as if on cue those institutions led Europe and America into the horrors of World War I, the binge of the Roaring Twenties, and the hangover of The Depression. We live in a somewhat similar time, the early years of a new century that abhors ambiguity, but when assumptions of faith, government, economics, and military power, on which our faith is based, have encountered new, global uncertainties of their own.
"The Modernists also rejected a Victorian artistic assumption—that literature must show man and life as we hope them to be," Crooke added. "My own intention is to be neither reactionary nor progressive, but rather like the Modernists, to find a truthful glimpse of human experience through artistic expression. I write about the mistake of confusing the political with the moral, about the ambiguity of reality and consciousness, the role of fate, and the ever-present past. These are the issues confronting Stephen Dahl, the narrator of Sunrise.
"When we meet Stephen, a writer living in Paris, he's haunted by a mysterious past. Protected in a day to day existence—an endless now—that has salvaged his once destructive, alcoholic life, Stephen is nevertheless spiritually frozen, imprisoned in a foreign country, unable to imagine the future. As the story proceeds, his past comes back to him, relentlessly and irrevocably. The story of how he became blocked, stalled, as a writer and a man, is gradually revealed, and the story is resolved at the moment he embraces the implications of his past, and particularly his assumptions about it and himself. We leave him where we found him, at a window, except that this final window has a view of the future."
About the author: Robert Crooke (
www.robertcrooke.org
) is a journalist, media executive, and teacher. His poetry has been published in the West Hills Review, the literary journal of the Walt Whitman Birthplace in Long Island, NY. He has lectured at Suffolk County Community College, the University of Nebraska, New York University, and the University of Connecticut. He began his career as a sports reporter and columnist for the Long Island Press and for 13 years served as North American press spokesman for Reuters, the international news group. His first novel, American Family (2004) was critically praised, and became a regional best-seller, popular with east-coast book discussion clubs. He and his wife reside in Bridgewater, CT.
About the book:
Publication date: December 5, 2007
Category: Adult fiction
ISBN: hardcover (978-0-595-70254-1) / paperback (978-0-595-46477-7)
Price: $24.95/$14.95
Pages: 208
Availability: through all major international sales channels, including
Barnes & Noble.com
,
Amazon.com
and similar e-retailers, through Barnes & Noble and other quality bookstores (distributed by Ingram Book Group and Baker & Taylor), or direct from the publisher's online bookstore, at
iUniverse.com
.
About the Publisher: iUniverse, Inc. offers a variety of publishing services to help individuals publish, market, and sell fiction, poetry and nonfiction books. Whereas traditional letter-press publishers produce a run of books in advance of sales, iUniverse utilizes a print-on-demand technology and business model, producing books in response to direct sales only, hence the term, 'print on demand.' The iUniverse management team has extensive editorial and managerial experience with traditional publishers such as HarperCollins, Putnam, Simon & Schuster and Holtzbrinck. iUniverse partners with industry leading author organizations, including the Authors Guild, the Harlem Writers Guild, and the American Society of Journalists and Authors (ASJA) to bring innovative programs to their members. iUniverse has strategic alliances with Barnes & Noble, Inc. in the U.S. and Chapters Indigo in Canada and has offices in New York City, Shanghai and Lincoln, Nebraska. (HQs: 2021 Pine Lake Road, Suite 100, Lincoln, NE 68512. Telephone: 1-800-288-4677)
###
Media Please Contact the Author: Robert Crooke, (860) 350-1245 or
rcrooke@msn.com
Contact
iUniverse, Inc.
Robert Crooke
860-350-1245
www.robertcrooke.org

Contact