Author and Inspirational Speaker Alexis Nicole White Releases Memoir, "The Covered"
Emotional Abuse is alive and well. Contrary to popular belief, emotional abuse is not just something that happens from parent to child, or occur in teenage love affairs. Adult women face emotional distress in their friendships, daily, says Alexis Nicole White.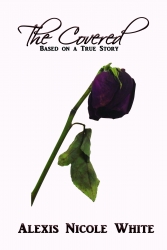 Atlanta, GA, February 29, 2016 --(
PR.com
)-- Author and inspirational speaker Alexis Nicole White addresses the untold social issues associated with emotional abuse in her new book, "The Covered." The release of this memoir is both relevant and timely as many African-American millennial women combat the stigmas of being single after thirty; unable to find suitable mates in addition to the notion that they may not get married at all. As she highlights the frustrations experienced as a maturing woman, Alexis discusses the challenges women have with maintaining healthy images of self-concept, self-awareness and self-love.
As her book releases on Tuesday, March 8th, 2016, during the celebration of Women in History month, she strives to empower women to take control of their relationships by optimizing healthy relationships from every perspective. "We really need to revisit what emotional abuse is and make sure we are encouraging generations behind us to develop healthy relationships," says Alexis Nicole White as she acknowledges the many women who endured emotional abuse and continued to thrive.
About "The Covered":
The publication falls in the "Biographies & Memoirs" genre of non-fictional titles and is available in 40,000 retail stores in 16 countries in paperback and eBook.
About Alexis Nicole White:
Alexis Nicole White is an entrepreneur, author and inspirational speaker. As a graduate of Purdue University, Alexis dreamed of climbing the corporate ladder. However, life and relationship experiences have birthed another passion in Alexis. Today, this writer and speaker is passionate about raising awareness about emotional abuse in relationships. Her memoir, "The Covered," highlights her journey with experiencing emotional abuse and how she survived and thrived. Her goal is to help other women, young and old, do the same – survive and thrive.
Alexis is available for interviews and appearances. For booking presentations, media appearances, interviews, and/or book-signings, contact Enga Sturns at (770) 225-2269 or via email: info@AlexisNicoleWhite.com.
Contact
Alexis Nicole White Media
Enga Sturns
770-225-2269
www.AlexisNicoleWhite.com

Contact
Multimedia
Author and Inspirational Speaker Alexis Nicole White's media kit which includes: excerpts, key tips, learning lessons and more.