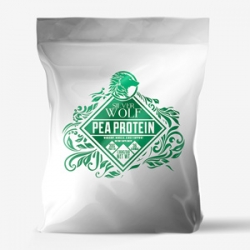 Tustin, CA, March 02, 2016 --(
PR.com
)-- Silver Wolf Nutrition has launched their flagship product; a high protein dietary supplement created for both muscle building and fat loss. Their new protein powder is made entirely of peas, making it gluten-free, dairy-free, and vegan. While ideal for people who are intolerant to animal-based products, Silver Wolf's Pea Protein is also affordable when compared to standard protein powders, making it an option for anyone who uses smoothies to lose weight or build muscle.
A 2014 report generated by Euromonitor International projected that the global sport supplement market could reach $12 billion by 2020. The largest portion of that amount is protein powder which reached $4.7 billion in 2014 and is projected to reach $8 billion by 2020.
As protein powder continues to grow in popularity, and the types buyers extend far beyond bodybuilders and athletes. Regular fitness enthusiasts and people looking to enhance their health through diet and exercise are also starting to utilize protein powders as part of their diets. With the growing marketplace has come a demand for plant-based protein powders, and that is where pea protein comes in.
Peas have a high amount of protein per serving, even when compared to high-protein vegetables like kale, broccoli, and spinach. At 8 grams of protein per cup (compared to kale's 2.9 grams, broccoli's 2.6 grams, or spinach's 0.9 grams), it is an obvious ingredient for a high protein product.
Silver Wolf Nutrition's new
Pea Protein
is a pure protein isolate that has a healthy amino acid profile. It contains 30 grams of protein per 38 gram serving of powder. To put that in perspective, one of the most popular whey proteins contains only 16 grams of protein per 35 gram scoop. You would need two full scoops (70 grams) to surpass Silver Wolf's product's protein-to-serving size ratio.
Pea Protein is also gluten-free, soy-free, and dairy-free. If a user has an insensitivity to lactose or animal-based proteins, pea protein is said to be ideal. The company stated that if you've ever felt bloated or uncomfortable after your pre- or post-workout protein shake, you may have an insensitivity or allergy to one or more of the ingredients.
Unlike some of the other types of protein powder, pea protein has a naturally high amount of branched chain amino acids, as called BCAAs. BCAAs are used for muscle recovery and growth. This amino acid profile, combined with pea protein's highly bioavailable protein, makes it ideal for both muscle building and dieting.