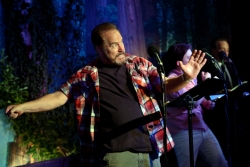 Hollywood, CA, March 03, 2016 --(
PR.com
)-- The action adventure, "River Driver," will be performed this coming Saturday, March 5 and 12, at the L. Ron Hubbard Theatre, located on Hollywood Boulevard, one block west of the Chinese Theatre.
"River Driver" is the story of Christopher Planket who has come home to Seattle with a college degree from an elite eastern university. He reluctantly accepts a contract to kill John Newcome for a million dollars, but when he takes a job at the logging camp where Newcome supposedly works, matters take a decidedly difficult turn. Because the work—is killing him.
"River Driver" is one of the fifteen stories written by Hubbard for Argosy Magazine in a series referred to as the "Hell Jobs." It was the editor of Argosy who wrote, "L. Ron Hubbard was only twenty-five when he wrote the Hell Job stories about the most dangerous professions a man can put his hand to and it was evident in each of them that he had done his research by living those jobs himself or finding out from the men who did. Whatever the Hell Job, every detail rings true."
"If you are going to write a story about logging," Hubbard explained, "well, you'd better get busy and log, man."
Enjoy a great show, a night of live Hollywood intimate radio theater and cabaret-style comfortable seating (where every seat in the house is a good seat). The best way to spend Saturday night in Hollywood.
http://www.galaxypress.com/theatre-los-angeles/theatre-schedule/
The cast:
RF Daley – Narrator, Director
Lester Clark – Banjo
Bill Kates – Old Man Planket
Jeff Elam – Tiny
William Parrish – Sawyer
Nancy Daley – Musical preshow
River Driver by L. Ron Hubbard
Saturday, March 5 and 12
Doors open at 7:00 PM and show starts at 7:30 PM
Tickets: $15.00 adults, children under 8 free. Can be purchased at the door or online at www.GalaxyPress.com or www.eventbrite.com.
Parking: Free
Address: 7051 Hollywood Blvd, on Hollywood Blvd, cross-street Sycamore, between Highland and LaBrea.
The L. Ron Hubbard Theatre has been open since 2008 and showcases the fiction works of L. Ron Hubbard in a modern-day environment with Hollywood actors where the entire family can experience a live show radio-theatre style and mingle with the actors afterwards.
Performances range from adventure, science fiction and fantasy, to mystery and western and begin with a 30 minute live musical pre-show. All shows are appropriate for all ages.
For more information go to www.GalaxyPress.com