Galaxy Press Celebrates Author L. Ron Hubbard's Birthday as It Gears Up for Massive Battlefield Earth Campaign
Galaxy Press as the publisher of Mr. Hubbard's fiction works, will celebrate L. Ron Hubbard's birthday by offering complimentary tickets to a special theatrical production at the L. Ron Hubbard Theatre located in Hollywood, CA this Saturday, 12 March.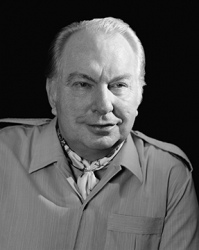 Hollywood, CA, March 10, 2016 --(
PR.com
)-- L. Ron Hubbard was born March 13, 1911 and became one of America's most successful writers of popular fiction, with a lifetime literary output of more than 15 million words of fiction. His writings ranged from adventure and mystery, to science fiction and fantasy, to western and even romance.
In celebration of his birthday, Galaxy Press (
www.GalaxyPress.com
) is featuring the production of one Mr. Hubbard's action adventure stories, "River Driver," at the L. Ron Hubbard Theatre in Hollywood with complimentary tickets to anyone mentioning this article.
Hubbard stated, "I wrote adventure, detective stories, air stories, science fiction, fantasy, technical articles, you name it. Production was about 100,000 words a month most months, done on an electric typewriter, working an average of three hours a day, three days a week." He went on, "I had one main problem, and that was running out of magazines to write for." In using his own and fifteen pen names during the 1930s-1940s, he wrote for the various magazines often contributing two and even three stories per issue where he saw over 200 of his short stores, novellas and novels published.
Then during an 8-month period in 1980, in celebration of 50 years as a professional writer, Hubbard wrote the 428,750 word science fiction epic, "Battlefield Earth." The title was later listed #3 in the top 100 science fiction novels of all time in a Random House Modern Library Readers Poll and has been published in 27 languages.
Galaxy Press is about to launch a massive campaign featuring a new edition of "Battlefield Earth" with expanded content including never-before-seen author handwritten notes as well as a 47 ½ hour multicast unabridged audiobook, the biggest sci-fi audiobook ever produced, and all being released Father's Day 2016.
With 19 New York Times bestsellers and more than 350 million copies of his works in circulation, L. Ron Hubbard is among the most acclaimed and widely read authors of our time. In celebration of his fiftieth anniversary as an author, he again returned to the forefront of popular literature with his monumental epics Battlefield Earth and the ten-volume Mission Earth series. Together, these titles dominated international bestseller lists for 153 weeks, and still remain among the all-time classic works of modern speculative fiction.
Contact
Author Services, Inc.
Emily Jones
323-466-3310
www.galaxypress.com

Contact