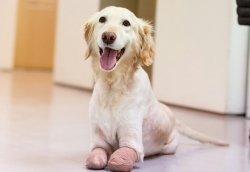 Los Angeles, CA, March 11, 2016 --(
PR.com
)-- Warning: Some of the information, images and video shared are graphic.
Opportunity
On Friday, March 11 2016, Chi Chi, the Golden Retriever who was tortured and left for dead in a trash bag in Korea, will conclude her overseas journey and begin her new life at home in the United States and media outlets are invited to share Chi Chi's story with the world.
Chi Chi (which means "loving", in Korean) will arrive at LAX at 1:30PM PST, accompanied by her Korean caretaker, and veterinarian. Before she is united with her new family in Arizona, members of the press are invited to film the "Welcome Home" celebration which begins with your live remote of Chi Chi landing in America before she takes her victory ride to an ARME affiliate residence (12218 Hartsook Street, Valley Village, CA 91607) where she will be showered with love and numerous gifts* from friends across the country at 3:00PM PST. (*Donated items to help with her re-homing and recovery, through her Amazon Wish List.)
The package is complete with an already produced video of Chi Chi's story of survival
https://youtu.be/05M1Ma-vPQU
(Additional videos are available on YouTube and photos of her rescue and recovery in Korea are available upon request.)
While Chi Chi's story is at first appalling and tragic, there is a happy ending, or more so, a happy new beginning.
Watch Chi Chi run and play wearing her new prosthetic legs https://www.youtube.com/watch?v=qijF7yeD4Ak
Chi Chi's rescue and re-homing was made possible with the support of the South Korean government, and partners Nabiya/Irion Hope and Animal Rescue, Media & Education (ARME), a national non-profit animal advocacy organization.
Chi Chi's Story
Chi Chi was discovered when rescue workers spotted a black garbage bag moving. Upon closer observation, Chi Chi was found inside with her legs bound and rotting. She was nearly dead. Rescuers instantly rushed her to a veterinarian where she was placed on fluid and antibiotic IV's and her condition was assessed. The extent of the damage to Chi Chi's legs was evident when the binding material was removed, revealing her painfully rotted limbs, exposed bones and tendons.
It is believed that as a puppy, Chi Chi was bound, hung upside down, and beaten for more than a year. This is a common practice of the illegal dog meat trade; in the belief that the more the dog is tortured, the more tender the meat, and the more potent the resulting aphrodisiac from certain body parts.
Chi Chi was bound for so long, that she was literally rotting inside, so the meat dealer discarded her in the trash, leaving her to suffer and slowly die, in a garbage bag in a ravine.
Because of the severe infection Chi Chi suffered, the only way to save her life was to amputate. The decision was difficult. Was it humane to amputate all four legs? What would her quality of life be? Chi Chi made that decision clear. Her zest for life and sweet nature said, "Please save me! No matter what."
Her legs were amputated, and just one day later, she was playing with a tennis ball and wagging her tail again!
Chi Chi Today
Chi Chi has been rehabilitating in a loving veterinary center in South Korea and her story has gone viral. She has fans around the world. Though Chi Chi's fierce determination quickly helped her adjust to walking on her elbows after her legs were amputated, she has be fitted with four prosthetic legs to aid her long term health and ability.
Now, ARME has secured a safe, loving, forever home for Chi Chi, in Phoenix, Arizona. Her new parents, Elizabeth and Richard Howell, along with their 12-year-old daughter, Megan, and three other dogs (two of whom were also rescued, and adopted from ARME,) will provide Chi Chi with the life she deserves.
The Howells plan to introduce her as a therapy dog to children who, like Chi Chi, are differently abled. She will receive therapy dog status, and visit children's hospitals. Her visits and story will offer love, encouragement and hope to children everywhere.
Young Megan Howell says, "I hope Chi will sleep next to me. And inspire other amputees with her strength and courage."
There are many heroes in this story: Chi Chi and her amazing will to live, her loving, forgiving, loyal spirit, Nabiya/Irion Hope, Shannon Keith and ARME, and the Howell's.
"When you see video of her spirit to live, and will to live, it's just amazing and that was something that really captured our attention and helped us connect with her even though we've never met," said Richard Howell.
Not About Politics
This story is not about politics. Nor is it intended to create controversy. It is not about the villains who tortured Chi Chi. It is a story of hope and triumph. And while there is an important message and education to be shared, it is equally inspiring to know that the Korean and Chinese governments are partners in this effort, and they are part of the solution to ending the illegal dog meat trade and the abuse of animals. What a great message to send to the many diverse audiences who tune-in to the news.
Further, ARME is not only focused on rescue work abroad. Shannon Keith and ARME are fiercely dedicated to protecting animals in the United States where their remarkable work advocating, rescuing, rehabilitating and re-homing animals is evidenced daily.
How the Community Can Get Involved and Save Lives
The community is encouraged to donate to support rescue efforts, foster, adopt, volunteer, write letters to the Chinese and Korean consulate, and report suspicious activity and any evidence of dog meat being served in local restaurants to info@armeteam.org. A criminal investigation is currently underway in Los Angeles, California.
The Issue – About ARME (Pronounced ARMY)
Chi Chi is just one of thousands of dogs who are tortured as part of the illegal dog meat trade. But happily, she is one of many who have been rescued and rehabilitated, thanks to ARME and a team of compassionate Korean rescue workers, caretakers and doctors.
Last December, ARME successfully rescued and re-homed 11 dogs in the United States as part of their ongoing efforts to enforce animal cruelty laws, to ensure that dogs bred, captured (stolen) and slaughtered for meat do not suffer horrific torture, and those who break these laws will be charged criminally.
Animal Rescue, Media & Education, a non-profit 501(c)(3) was formed in 2004 by animal rights attorney Shannon Keith in order to rescue animals and legislate change through their stories. ARME has rescued over 2,000 animals from death row, abuse and abandonment.
ARME's campaign, Dogs In The Dark, exposes the atrocities dogs suffer as part of the dog meat trade, and shines a light on the lesser known, but equally terrifying illegal activities taking place in the United States (some of which have been documented in parts of Los Angeles.) The campaign aims to identify and expose illegal activity, educate the public, and end crimes against innocent animals. See the trailer at http://armeteam.org/chulas-compass/.
For more information about ARME and Chi Chi please visit
www.armeteam.org and https://www.facebook.com/chichigreat/
Rescue Alert
Media Tip Sheet
Shannon Keith
323-243-2300
shankeith@icloud.com
Sasha Itzikman
818-383-7970
sasha.itzikman@gmail.com