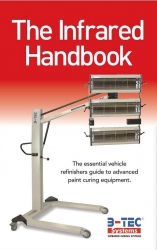 Scottsdale, AZ, March 14, 2016 --(
PR.com
)-- "The Infrared Handbook" is released.
There are many thousands of infrared units being used in the automotive refinish industry globally, so it's surprising that there is only one book currently available that gives comprehensive information about the use of infrared equipment, as well as application advice. "The Infrared Handbook" from B-Tec Systems was written by Peter Phillipson who has over 30 years automotive experience. Phillipson spent 18 years with Edwin Trisk where he was responsible for developing short wave infrared systems and global technical training. He has also been acting as a consultant for several leading infrared manufacturers in recent years. He has been working recently for B-Tec Systems in the USA, as Technical Sales & Marketing Manager (IR). Phillipson commented, "I have been writing educational pieces for several years, but finally found the time to write another book on infrared. It basically covers everything about infrared, what it is, how it works, the benefits of using it and also covers most of the applications you can use it for in the automotive refinish industry. I hope it will enable both distributors and body shops to better understand infrared equipment and its benefits."
The book is available from B-Tec Systems. The electronic version is priced at only $9.95. Call corporate office phone (480)-621-5304 or email btecusaoffice@gmail.com to obtain a copy.