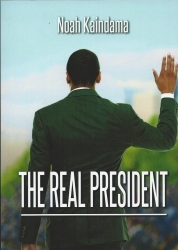 Lusaka, Zambia, March 15, 2016 --(
PR.com
)-- Who is The Real President?
"Some people seek power for the love of power.
They enjoy power and all the trappings that come with power.
They want to feel important and seeking power is the end in itself.
"Others seek power because it gives them an opportunity to make money. The salary, allowances and influence bring them opportunities to increase their wealth.
"I seek power for none of these reasons." - The Real President, 2015
All over the world today, the issues of political power, accountability and governance are throwing countries into political and economic chaos. From Africa to the Middle East, from the Americas to Asia the story of political greed and conflict is all but too common with increasing numbers of failed states. "The Real President" is the timely debut novel by Noah Kaindama, charting the many perils of Moses Kamawu as he decides to challenge the incumbent tyrant president who has run down his country - a seemingly brave but increasingly dangerous mission. The president is brutal, stubborn and accustomed to ruling with impunity, but drawn into Moses' irresistible vision, ordinary citizens band together and fight to usher change into their country. It is a must read not only by aspiring presidents but all citizens who are faced with a dilemma of casting a vote to bring about change that impacts positively upon the life of every citizen.
Set in the fictional African country of Lubanda, the book explores familiar questions many real African countries and citizens continue to grapple with as they either fight to create a true nation state or face life as pawns in a tyrant's playground.
About the Author
Noah Kaindama was born in Zambia when it was still known to the world as Northern Rhodesia. Eventually leaving his country, whilst it was under the thumb of one party rule, he has lived in much of Southern Africa until settling in the UK with his family. He recalls winning his very first writing competition prize in 1979 at college but never took up writing seriously until now. He has worked in education for many years and is a committed family man, very much looking forward to spending his retirement writing and enjoying quiet life in his beloved Zambia.
Critical Praise
What a brilliant book. It should serve as a blueprint for the perfect African state – an excellent warning as well as a guide for potential presidents and leaders! In a sense it's an utopian novel. By the end of the book I can see how it all works well as a predictive novel in the face of a potential Eurasian super state that could envelope Africa as well as Europe. Charles Muller, Diadem Books
A gripping, refreshing read. Lubanda feels familiar and the tyrant is all too real. Reader
To find out more about the book please visit www.realpresident.co.uk or contact Noah at noah.kaindama@gmail.com or tweet him @n_kaindama