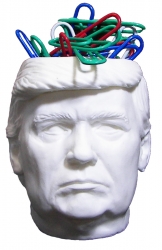 Southbury, CT, March 23, 2016 --(
PR.com
)-- Herobuilders.com, adds the following Political products to the 2016 election mayhem! The Owner Emil Vicale said "He could not stay out of this race!" Emil Vicale started Herobuilders right after the 9/11 attacks with the George Bush Action Figure and has been in business ever since.
Herobuilders has grown up a bit and has many product lines so Emil Vicale thought he would sit this year's race out, but the political pressure was too much for him. So back to the process: What to make? Who to make? What twist can Designer Emil Vicale and team put on the products?
The product line up available at HeroBuilders
www.herobuilders.com/political/political+action+figures+2016.htm
The Donald Trump Action Figure with Removable Toupee sells for 39.95
The Don T-Shirt sells for 24.95
The Don Paper Clip Head, the prefect desk accessory, you can make hairdos for The Don with your paper clips. Sells for 19.95
The Hillary Cuctom Action Figure Complete with Blackberry sells for 39.95
And just in case you want your own custom action figure that looks talks and dresses just like you...
Herobuilders.com is the leader for custom action figures, and personalized action figures. Herobuilders now has the largest selection of custom action figure clothing and custom action figures. The Herobuilders team can make you into a custom action figure, or talking custom action figure in just 2 weeks. All custom action figures are made right here in the USA at Herobuilders studios in Connecticut.
One interesting aspect about Herobuilders custom action figures is you can add any clothing, accessories, tattoos, even a voice chip to get a real fully personalized action figure.
Herobuilders is the largest and most respected maker of custom action figures and personalized action figures in the USA. According to the company, "These are the best birthday gifts, Christmas gifts, retirement gifts and corporate incentives – there is no event where these would not be welcome. Corporations that are looking for employee incentives or corporate gifts find a custom action figure is perfect for these events."
This is a fun gift for any small business owner for to help a small business celebrate a special anniversary, new product or grand opening. A small business can also offer the custom made super hero products as a gift to their best customers.
To visit the new custom action figure superstore, just click this link:
www.herobuilders.com/custom-action-figures.htm