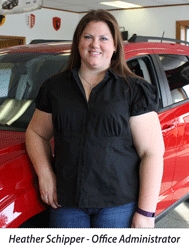 New Glarus, WI, March 29, 2016 --(
PR.com
)-- New Glarus Motors, LLC (NGM) a privately owned and operated Chrysler, Dodge, Jeep, and RAM dealership located in New Glarus, Wisconsin, is once again growing. Heather Schipper has recently been hired as Office Administrator, a newly created position.
Matt Dierksmeier, Vice President of New Glarus Motors stated, "We are proud to be able to, once again, expand our presence in New Glarus. By growing the business, we can now offer customers a more streamlined buying experience. This in turn, saves our customers time and money, while providing them with the products they need."
In this newly created position, Schipper will be responsible for checking in new vehicles, making sure all inventory is accurate and complete, billing commercial customers, making sure NGM is in compliance with all the rules and regulations, and managing interface with OEM's as well as customers to make sure all vehicles have titles. Schipper will also work within the company to help manage workflow processes so that customers are able to engage in a smooth buying experience.
Previously, Schipper owned her own business, Schipperfabrik. Schipper dealt with all aspect running this company from supervising the flow of materials, storage, to global ordering. She also was the primary contact for customers, providing service and assistance by responding to inquiries, complaints and handling merchandise returns quickly and efficiently. "As the owner of the company, I was involved in all aspects of the company, from ordering, inventory, monitoring accounts, and working with customers to provide what they needed," Schipper continued. "Now, that I've moved into this new role at New Glarus Motors, I will be able to put all this expertise to good use, while maintaining a more compatible work/life balance that owning a business doesn't always afford you. I am so excited to be working at New Glarus Motors. And as a new local resident, I'm looking forward to attending the many festivals the town of New Glarus offers!"
About New Glarus Motors:
New Glarus Motors is a division of Badger Truck Center. Established in 1965, Badger is a second generation, family-owned dealership with locations throughout southeastern Wisconsin. New Glarus Motors is a 2014 addition to the Badger Truck Center family and includes the Chrysler, Dodge, Jeep and RAM franchise. Additionally, New Glarus Motors provides a complete service and parts experience for all vehicle makes and models. Selling to the retail and commercial market, New Glarus Motors' philosophy of teamwork, integrity and open communication with customers ensures they get the vehicle they need and want at the best value. Located in New Glarus, Wisconsin, New Glarus Motors serves customers nationwide. To learn more, visit our website at www.newglarusmotors.com, or call 608-527-5080.