Why Many Mental Health Counselors Love This Managing Fear Book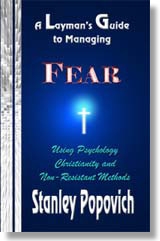 Pittsburgh, PA, March 24, 2016 --(
PR.com
)-- There are many mental health counselors who like to use this managing fear book for their clients.
"A Layman's Guide To Managing Fear" by Stan Popovich has been a lifesaver for many people who struggle with fear, anxiety, addiction, and depression.
Please go to Stan's website at www.managingfear.com to read the many professional book reviews from various counselors who work in the mental health field.
In addition, here are 12 Reasons why many counselors recommend Stan's managing fear book for their clients and why you should look into this helpful book.
1. It is a quick, easy, and very effective read
2. Author can relate to others with his 20 year struggle with anxiety
3. It gives you immediate relief
4. Stan's book is very affordable
5. You can read the many professionals reviews on Amazon or at Stan's website
6. There are a variety of techniques in the book you can work through
7. All methods are proven and have been reviewed by professionals
8. A person can use this book during their counseling sessions
9. This book will save you time and money in finding answers about your fears
10. Techniques are backed up with real life examples
11. Stan has thousands of fans on Facebook, Twitter, and LinkedIn
12. Stan has been on TV and Radio and writes for many national publications
Stan writes on various mental health topics and his articles have appeared in a number of magazines and blogs including Entrepreneur magazine, Just Luxe magazine, Huffington Post, and Divine Caroline.
He is an award-winning and respected contributor on the topics of managing fear and the consequences.
Stan is available for any interviews with the media and is willing to answer any questions.Please contact Stan at his website for more information.
Contact
www.managingfear.com
Stan Popovich
412-430-2807
www.managingfear.com
stanpop822@gmail.com

Contact