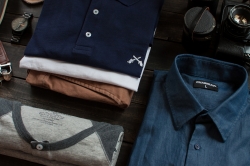 New York, NY, March 30, 2016 --(
PR.com
)-- Actor and Entrepreneur Ian Ziering (formerly of Beverly Hills 90210, Dancing with the Stars, and The Celebrity Apprentice) is still hard at work. He just finished his fourth installment of the Syfy hit movie series "Sharknado" but these days he can be seen around his California home working on product and business development for his clothing and apparel company called "Chainsaw Brands" at www.chainsawbrands.com. Ziering started Chainsaw Brands in 2014 with Connecticut businessman Mitchell Felton after a backyard conversation turned into a brand. "Today, the evolution of our business continues. I am very happy to announce the launch of our new storefront and apparel shop for men and women at chainsawbrands.com. We hope it takes you back a step in time to a simple and fun-filled shopping experience."
CEO Mitchell Felton states, "Part of our development as a global retail brand was to capture that flavor of comfort and traditional American style. In all that we are and all that we do, our goals are to help our partners and our customers connect, relax, and purchase from us with confidence. We hope that we have accomplished this goal with our new store front."
CTO Daniel Utley adds, "The chainsawbrands.com website was designed using state of the art technology and back office systems to help our retailers and customers. We want to make the buying process fundamentally easy for any retailer or customer."
Chainsaw Campus, a division of Chainsaw Brands, offers custom designed logo apparel and promotional products for campus and corporations. Senior VP Ian Knechtle explains, "Our campus and corporations unit is doing very well. We have extended capabilities and partnerships to produce everything from customized logo umbrellas to our own customized Pima cotton polo shirts. It's quickly becoming the outdoor season all over the U.S. and if you run an organization, charity fundraiser, sports team, or manage an event, there is no better way to promote it than creating your own customized products or storefront with customized merchandise. We are helping clients every day make this happen."
For more details and information please contact us directly at 203-764-2114. You can also visit their website at
www.chainsawbrands.com
.