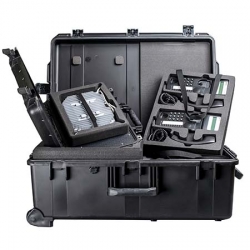 Fort Lauderdale, FL, April 01, 2016 --(
PR.com
)-- Global RadioData Communication Ltd, one of the UK's leading suppliers of satellite services, working with Network Innovations (NI), a leading Inmarsat partner, becomes the first company in the world to have an Enterprise commercial GX terminal go live commercially. The Global Xpress solution is deployed in Africa for a major mining organisation and utilises GRC's Scytale mobile communication system to provide secure, reliable and flexible communications from the field to anywhere on the planet.
Partnering with Network Innovations (NI), GRC was able to capitalize on NI's past successes in deploying Global Xpress test terminals worldwide on land and at sea, for a wide array of customers. As one of the leading suppliers for Global Xpress hardware and airtime, NI's leadership and expertise proved to be a valuable contribution to first the field testing period and finally the adoption by the customer of the new Global Xpress service.
Connecting the remotest regions in the world, Global Xpress is the first high-speed broadband network spanning the globe, offering seamless connectivity and advanced data services on land, at sea and in the air and is the first commercially available global satellite service that utilises Ka-band radio frequencies.
GRC Ltd's Scytale solution provides flexible, reliable and cost effective communications in areas where no existing network is in place. Housed in a rugged, Peli backpack and weighing approximately 10 kilograms, Scytale provides a rapidly deployable private, VoIP, GSM and data network and is fully compatible with Global Xpress.
Tony Talbot, Technical Sales Manager for GRC said: "We are delighted to have secured the first commercial Enterprise customer for the new Global Xpress service, anywhere in the world. Working with our partner Network Innovations, for the first time we are able to supply Ka band, high-speed broadband communications on a truly global scale. The Global Xpress service will provide organisations, which operate worldwide, a satellite communication solution that is flexible, cost effective and negates the need for multiple hardware options."
"The key for the customer was to have a global solution that would surpass the current offerings but also save them money on the service, installation, maintenance and training. Global Xpress combined with Scytale was the perfect match and after several months of field testing we are delighted to have the customer online commercially," said Eric Verheylewegen Vice President and General Manager at Network Innovations.
About GRC
GRC Ltd is an independent company based in the UK and Dubai specialising in the design and development of mission critical communication and situational awareness systems. Our products are used by the military, Government Agencies, NGOs, oil and gas and other commercial organisations which operate in challenging environments across the globe.
GRC's design and engineering teams comprise ex end-user specialists whose backgrounds in force protection communications enables us to provide unrivalled operational knowledge and technical expertise. Our wealth of tactical and strategic understanding gives GRC an advantage over many of its competitors, allowing commercial off the shelf (COTS) and Military off the shelf (MOTS) equipment to be enhanced through integration with in-house product design.
For more information about GRC and its communications solutions, please visit: http://www.grcltd.net
About Network Innovations
Network Innovations (NI) is a satellite communications integrator, focused in the provision and support of systems which enable its customers to communicate anywhere on the planet. Incorporated in 1988, Network Innovations has grown consistently and profitably through a team of professionals located at offices around the globe. It has specialized in the successful development and delivery of turn-key communications solutions for the media, energy, maritime, enterprise and government sectors. Its flexibility to custom-design solutions and integrate various satellite communications technologies for customer and industry specific needs is one of its key differentiators. Please visit www.networkinv.com for more information.
About Inmarsat
Inmarsat plc is the leading provider of global mobile satellite communications services. Since 1979, Inmarsat has been providing reliable voice and high-speed data communications to governments, enterprises and other organizations, with a range of services that can be used on land, at sea or in the air. Inmarsat employs around 1,600 staff in more than 60 locations around the world, with a presence in the major ports and centres of commerce on every continent. Inmarsat is listed on the London Stock Exchange (LSE:ISAT.L).