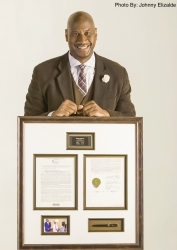 Hollywood, CA, April 03, 2016 --(
PR.com
)-- Ford Motor Company and Tom Joyner Foundation announced that Charles Belk, Founder and Executive Director of Fitting The Description, is one of ten Ford Freedom Unsung Hero Finalists, as part of a national campaign honoring the outstanding achievements of ordinary people performing extraordinary work in the African American community.
The public voted during the month of March 2016 for the winner, which will be announced on the Tom Joyner Morning Show (TJMS).
As a result of his August 2014 wrongful arrest for mistaken identity, Hollywood producer and entertainment marketing executive, Charles Belk, launched Fitting The Description and the nationwide #AutoErase Initiative. During the arrest, Belk was handcuffed and detained on a busy Los Angeles street curb for 45 minutes, taken to the police station, booked, denied a phone call, denied being told his charges, denied immediate access to his attorney, jailed for six hours for Armed Bank Robbery and Accessory to Armed Robbery and held under a $100,000 bail. Although he was released later that night and given a Certificate of Detention, which indicated that he was only detained and not arrested, an arrest record appeared on the Los Angeles Sheriff's website and a state legal process had to be followed to get the arrest record sealed and destroyed.
The #AutoErase Initiative includes a 50-state legislative effort requiring that arrest records are automatically erased of those innocent individuals wrongfully arrested due to mistaken identity or identity theft. #AutoErase legislation has been introduced in 14 states (NC, IL, CO, RI, SC, AZ, PA, MI, TN, WI, NE, CT, MO, KA) and passed by 3 (NC, IL, CO).
Fitting The Description (a 501.c.3, tax exempt, non-profit organization) was established to help build awareness of wrongful detentions and arrests that occur each day because an individual "fit the description." The goal of the organization is to help educate and inform others about the perils of wrongful arrests records, and to advocate for alleviating the burden and costs incurred by the innocent to remove those arrest records.
The other nine 2016 National Ford Freedom Unsung Hero Finalists are:
Stephanie Bureau, Baton Rouge, LA
Candace Devaney, Lawrenceville, GA
Rosalind Evers, Conyers, GA
Keesha Ferebee, Chesapeake, VA
Felecia Frazier, Desoto, TX
Sylvester Lee, Belleville, IL
Ray Palmer, Kenner, LA
Nikita Rose, Lakewood, CA
James Washington, Montgomery, AL
"It is certainly quite an honor to be recognized in such away out of a national pool of awesome individuals doing awesome things," said Belk. "And I bet, if you ask any single one of them, while they are honored, they don't do what they do for the recognition; they do what they do, because, just... because."
Charles Belk is a producer at and president of I Will Make You a Star Productions, a Los Angeles-based social/digital marketing and production company. He is also founder and executive director of Fitting The Description Inc. Belk is a graduate of Durham Hillside High School, and received a BS in Electrical Engineering from the University of Southern California, an MBA from Indiana University, and an Executive Leadership Certificate from Harvard Business School.