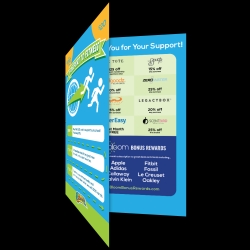 Wilmington, NC, April 06, 2016 --(
PR.com
)-- Bloom has partnered with Adventure to Fitness, the nation's number one educational fitness program for kids, to create a first-of-its-kind, high-profit product fundraiser.
Beginning today, the Passport to Fitness program is available to schools. The first savings card fundraiser from Bloom, schools raise unrestricted funds by selling Passports for $20 and collecting a flat 50 percent profit from each transaction, and in lieu of traditional fundraising incentives, each student and classroom can earn a year subscription to Adventure to Fitness.
Developed by parenting, medical and educational experts, Adventure to Fitness is used by over 100,000 teachers daily. 30-minute, animated live-action episodes are centered around core subjects like math, history and science, and provide moderate-to-vigorous physical activity for children. Teacher and parent guides with suggested activities to reinforce lessons learned are also provided with each episode.
"Knowing that there are few opportunities for children to play at school, and that classrooms are in need of financial resources, we saw an opportunity to make a positive impact by developing a program with Adventure to Fitness that will not only raise funds to support educational programs, but help children and entire school communities become healthier and happier," said Ryan Hedspeth, President of Bloom.
The Passport to Fitness is a plastic savings card that features eight direct deals from prominent up-and-coming brands, including ZeroWater, Le Tote, The Bouqs, and Scentbird, and Adventure to Fitness content is gifted to qualifying schools on behalf of these featured companies.
Each card also has a unique code that provides access to a 6-month subscription to Bloom Bonus Rewards, an exclusive online shopping portal with premium discounts on select merchandise from name brands, vacation and travel, and event tickets throughout the country. The offers and technology were originally developed as a loyalty and incentive platform for Global 100 companies but will be featured in the fundraising industry for the first time through an exclusive partnership with Bloom.
Bloom's incentive program is designed to provide Adventure to Fitness content to schools that reach specific sales goals. Those selling 1,000 Passports will raise $10,000 and receive a one-year subscription to Adventure to Fitness for each classroom. When schools sell 1,500 Passports, they will earn $15,000 in unrestricted funds, annual classroom subscriptions, and each student will also receive Adventure to Fitness content for their home.
Schools interested in the Passport to Fitness program can learn more by visiting www.BloomForGood.com/A2F.
About Bloom
Bloom's mission is to positively impact communities nationwide by planting the country's most powerful brands deep within school and youth sport communities through funding solutions featuring nationally branded offers and socially conscious incentives.
About Adventure to Fitness
Adventure to Fitness is the #1 educational fitness program for kids, used in approximately 40% of U.S. elementary schools and reaching up to 10.5 million children around the country. Through engaging videos, supplemental learning material and tips from experts, Adventure to Fitness offers a 360-degree solution to health and education for children at home and in school. Adventure to Fitness was developed with input from leading educational, medical, and parenting experts.