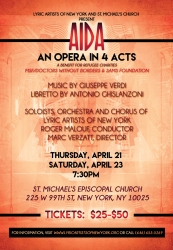 New York, NY, April 09, 2016 --(
PR.com
)-- Ticket Proceeds Will Benefit Doctors Without Borders/MSF and SAMS Foundation
Lyric Artists of New York (LANY), a new boutique opera company with a goal of creating performances that emulate the "Golden Age" of singing, in conjunction with St. Michael's, an historic Episcopal church in New York that has been worshiping on the corner of Amsterdam Avenue and 99th Street in Manhattan since 1807, presents Verdi's Aida, one of the greatest operatic works of all time, with an all-too-common theme of love, conflict and loss. This inaugural production will benefit the refugee charities Doctors Without Borders/MSF and the Syrian-American Medical Society (SAMS) Foundation, two far-reaching organizations dedicated to providing acutely-needed medical services in war-stricken and refugee areas.
Performances will take place on Thursday, April 21 and Saturday, April 23, 2016 at 7:30 p.m. at St. Michael's Episcopal Church, 225 W. 99th Street. Tickets are $25 for general and $50 for premium seating. The cast features Christine Moore as Aida, Benjamin Sloman as Radames, Edith Dowd as Amneris, Gustavo Ahualli as Amonasro, Stephan Kirchgraber as Ramfis, Russell Johns as the King, Pavel Sulyandziga as the Messenger, and Jessica Philpot as the High Priestess. Performances will be accompanied by Lyric Artists of New York Chorus and Orchestra, conducted by Roger Malouf. The production is directed by Marc Verzatt. All ticket proceeds will be donated to Doctors Without Borders and the SAMS Foundation. To purchase tickets online, visit
www.lyricartistsofnewyork.org/events/
and click on the link "Aida Benefit." Tickets are also available at the event.
Lyric Artists of New York and St. Michael's are deeply committed to using the arts to celebrate humanity and are honored to be playing a small part in helping organizations such as Doctors Without Borders/MSF and the SAMS Foundation achieve their sizable goals of alleviating the suffering of thousands of innocents.
About Lyric Artists of New York
To learn more, visit www.lyricartistsofnewyork.org or call (347) 653-LANY (5269).
About St. Michael's Church
To learn more, visit
www.saintmichaelschurch.org
or call (212) 222-2700.
Contact: Anthony Vassallo
Tel. (347) 653-5269
Email: lyricartistsofny@gmail.com