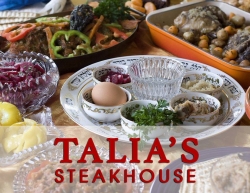 New York, NY, April 13, 2016 --(
PR.com
)-- For over thirteen years, Talia's Steakhouse & Bar has been serving the kosher community of the NY Metro area. As the premier Glatt kosher establishment in Manhattan, Talia's is proud to announce they will once again conduct both prepaid Passover Seders with two seatings each night, plus serve lunch and dinner during Chol Hamoed and Yom Tov. Talia's will be open almost 24/7 during this biggest Jewish holiday of the year. Relax and enjoy a hassle-free Passover without having to cook or clean. Talia's will also have a complete kosher-for-Passover bar.
Passover begins Friday, April 22nd at sundown, with Jewish families across the world celebrating the Seder ceremony. It is during the Seder that the uplifting story of Passover is told by reading from the book known as the "Haggadah," meaning "the telling."
The three-course Seder will include homemade meal options including a mesclun and arugula salad, roasted beet salad, choice of matzah ball and potato leek soups, braised prime beef brisket, chicken breast Marsala, Moroccan salmon, scrumptious desserts, the traditional four cups of wine, soft drinks and full-service bar.
Talia's Steakhouse is under strict rabbinic supervision to ensure everything in the steakhouse is prepared properly according to kosher laws. All food for the holiday is pre-cooked and all meals are pre-paid, as no money can be exchanged during the holiday. Because of this, reservations must be made in advance. When holidays do not fall out on Shabbat, grilling on an existing fire is permitted so that guests can enjoy steaks and burgers.
As usual, Talia's has prepared a team of cleaners who will clean every inch of the kosher Manhattan restaurant overnight to make sure there is no chametz left on the premises. To read a general description of the process of making the restaurant kosher-for-Passover, please visit:
https://www.dnainfo.com/new-york/20120403/upper-west-side/uws-restaurants-mark-passover-with-deep-cleaning-seder-menus#ixzz2HGlqclWb
Talia's is now taking prepaid reservations for Passover 2016. No group is too small or too big. Talia's romantic ambiance with candles and roses on each table make it an ideal spot for couples looking to celebrate the holiday. Space is limited, so early reservations are recommended. Talia's Steakhouse & Bar is located at 668 Amsterdam Avenue (between 92nd and 93rd Streets), New York, NY 10025.
Talia's is also located near many hotels and synagogues, a list of which can be found at the following link:
http://taliassteakhouse.com/nearby-hotels/
Talia's Steakhouse specializes in the finest, affordable, Glatt kosher catering for Passover and other Jewish holidays and celebrations in New York. Talia's will cater any party size at your home or synagogue. Deliveries and pick-ups are also available. Glatt kosher doubled-wrapped package delivery may be available to other restaurants, hotels and other locations. Talia's staff is available daily to help work out all the details.
Read Talia's great media feedback:
http://www.examiner.com/article/kosher-passover-seder-at-talia-s-steakhouse-on-uws
http://blogs.jpost.com/content/nyc-has-slammin-food-passover-year
http://thestrongbuzz.com/potluck/details.php?item_id=89
To view full holiday schedule, menus and prices, please visit Talia's dedicated Passover page:
http://taliassteakhouse.com/holidays/jewish-holidays/passover/