Crazydeals.com Introduces Mobile Shopping App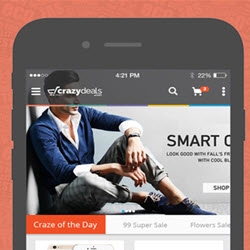 Dubai, United Arab Emirates, April 15, 2016 --(
PR.com
)-- Being one of the leading e-commerce portals and a famous online shopping destination, Crazydeals.com announces the official launch of its customized mobile app both for Android and iOS users.
Now available on Google Play and the Apple's app store, the app allows respective customers to navigate products and shop from Crazydeals.com from a wide range of products categorically fashion for men and women, health & beauty, home appliances, mobiles and tablets, desktops and many more.
Abdullah Yahya, Founder of Crazydeals.com exclaimed: "We designed our apps in lieu of our customer's search for a faster shopping experience across diverse devices. The app entails faster and reliable browsing, product searching, buying and order tracking similar to that running on the official website. This will be a whole new one window shopping experience for our customers."
As evident from the advent of smartphones and tablets, the shopping habits of the customers are modifying drastically on the global front including the Middle East who are also looking for convenience and of course inexpensive products.
Due to the increased use of mobile devices, the number of channels through which they can shop is multiplying drastically. In UAE, e-commerce currently stands out to be one of the largest markets in the world is expected to grow in 2016. From its main share coming from a huge smartphone penetration, e-commerce is expected to drive up in tablet penetration and purchases.
Abdullah Yahya, Founder Crazydeals.com added "As customers shopping online from their mobile devices are growing and now represent more than half of all purchases on Crazydeals.com, we believe the launch of our iPhone and Android apps is a smart move."
About Crazydeals.com
Crazydeals.com is the Middle East's most happening online destination for consumer products. Crazydeals.com brings to you an extensive range of local and international brands in the region, as well as in-house brands. Crazydeals.com ensures that customers have satisfaction and comfort while shopping, which is why we promise the latest trends, brands and high service levels through our amazing customer engagement team. Through our smooth ordering and shipping process, we believe in making your shopping experience happy and convenient.
Contact
Crazydeals.com
Abdullah Yahya
+971529444411
www.crazydeals.com

Contact
Multimedia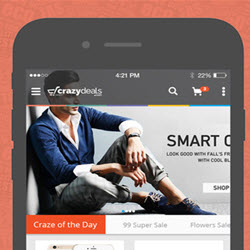 Crazy Deals app now offers you the power of shopping across anywhere in Saudi Arabia, UAE in your pocket. It is finally available for Android users. Everything that made you fall in love with Crazy Deals is incorporated in this app which makes it simple fast and fun.