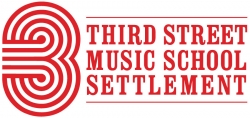 New York, NY, April 20, 2016 --(
PR.com
)-- Third Street Music School Settlement will be presenting three students graduating this June as recipients of the New York Community Trust Harris Scholarship. This year's scholars, Soledad Tejada, 17, Delcine Doscher, 17, and Sienna Sherer, 17, will each receive $25,000 over four years towards their college expenses. Entering college in fall 2016, the scholars have been accepted to schools such as Yale University, University of Southern California, New York University, CUNY Hunter, CUNY Baruch, Oberlin College, and Northeastern University.
The scholarships are made possible by Charlotte Daniels Harris, a Queens kindergarten teacher who wanted her life savings to make a difference in kids' lives. Before her death, she started a fund in the New York Community Trust to help city students who show promise in their studies, demonstrate financial need, have good character, and study music. The Trust awarded $171,000 to Third Street to provide students with four-year college scholarships from 2016 to 2020.
"The New York Community Trust is proud to work with Third Street Music School on the Harris Scholarship," said Kerry McCarthy, Program Officer at The Trust. "The scholarships recognize musical achievement, academic performance and community engagement, which are so vital to New York." For a feature article on the Trust's website, please click
here.
"It is our job to help each student reach his or her full potential as a musician or dancer. At Third Street, we have pathways to excellence that can begin in early childhood, continue in elementary school through high school, and carry on into adulthood," said Valerie Lewis, Third Street's Anna-Maria Kellen Executive Director. "To have this opportunity to help students make a successful transition from high school to college, to mentor them through college, and to give this level of support to their families is a dream come true."
About The Harris Scholars
Soledad will graduate from Bard High School Early College Manhattan. She has applied/been accepted to college such as Yale University, Bard College, and Brown University. Soledad entered Third Street through our school partnerships program in 2003 (offering free/low-cost tuition to public school students) and has been studying the piano ever since. Soledad also demonstrates strong afterschool curricular activities, participating in chorus and musical theatre programs across the city.
Delcine will graduate from New Explorations into Science, Technology and Math High School. She has applied/been accepted to college such as St. John's University, Fordham University and Baruch College. Delcine has been with Third Street since she was a toddler in preschool, and she grew up playing the viola and taking enrichment courses such as music theory. Delcine is also a member of the Philharmonia, Third Street's most advanced orchestra.
Sienna will graduate from NYC Lab High School this June. She has applied/been accepted to colleges such as Bard College, SUNY Purchase, SUNY New Paltz, and University of Southern California, where she intends to major in English Literature. While Sienna's instrument of choice is the guitar, she has studied a wide range of classes including dance, music theory and composition, ensembles (guitar trio), and visual arts (painting).
"At Third Street, I have grown up. The lessons, the recitals, the camaraderie, the teachers, the mission of the School; these have become a part of me. I have learned what it means to work at something. I found an ability to process life through my writing. But most of all, I had a second home," said Sienna. "Wherever I go next, Third Street goes with me. And there are not enough words to express my gratitude, except to say thank you to the New York Community Trust Harris Scholarship for this gift."
About The New York Community Trust
Since 1924, The New York Community Trust has been the home of charitable New Yorkers who share a passion for the City and its suburbs - and who are committed to improving them. The Trust supports an array of effective nonprofits that help make the City a vital and secure place to live, learn, work, and play, while building permanent resources for the future. The New York Community Trust ended 2013 with assets of $2.4 billion in more than 2,000 charitable funds, and made grants totaling $141 million. Read more about The New York Community Trust here:
www.nycommunitytrust.org/
.
About Third Street Music School Settlement
Founded in 1894, Third Street Music School Settlement is that nation's longest running community music school with its roots tied to the late 19th century settlement house movement. Instrumental in establishing community arts education in the United States, Third Street has been changing lives and its community by providing access to high-quality music and arts instruction to students of all ages and backgrounds, regardless of artistic experience or economic circumstances. Today, Third Street serves over 5,000 students annually, helping them thrive in school and in life by promoting healthy personal and academic development, opening avenues to further study, sparking professional careers in the arts and instilling a lifelong love of learning.
Located on East 11th Street in the heart of the East Village, Third Street offers early childhood classes, a unique music-centered preschool, after-school and Saturday programs for children and teens, as well as daytime and evening programs for adults. It also provides in-school arts education through more than 27 school and community partnerships across the city, as well as a year-round schedule of more than 250 public performances. Third Street alumni, many who are professional artists, include violist Masumi Per Rostad of the acclaimed Pacifica String Quartet; 1920's hit-maker Irving Caesar 9Tea for Two, Bobby Lopez, co-writer of the hit Broadway musical Avenue Q and Academy Award-winning writer of "Let It Go" from Disney's Frozen; Ingrid Michaelson, pop singer/songwriter with hits on the Top 40 charts; and Jessie Montgomery, recipient of the Sphinx Award.
For more information, please visit the School's website,
www.thirdstreetmusicschool.org
.