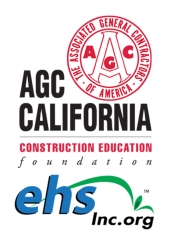 Lake Forest, CA, April 21, 2016 --(
PR.com
)-- The AGC Construction Education Foundation (AGC CEF), the workforce development arm of the Associated General Contractors of California (AGC) to promote and support the activities of construction education for students pursuing construction careers, and ehsInc, CA, a worldwide safety education and curriculum design consulting firm, today announced an exclusive Visionary Partnership. The partnership provides AGC Student Chapter members with complimentary access to ehsInc, CA's industry safety training webinars.
"We are proud to partner with ehsInc, CA," said Erin Volk, vice president of workforce and operations for AGC of California and AGC CEF. "We believe this exclusive partnership is a perfect fit for our AGC student chapter membership and builds upon our ability to provide professional development activities for all student chapter members statewide."
The 500-member student chapter network will benefit from an array of "real-world" industry based training surrounding safety and health that is currently not offered in college course curriculum. The goal of this initiative and partnership is to supply the student membership with ehsInc, CA's vast online webinar bank as supplementary training in topics ranging from CPR guidelines, rigging and inspections to accident investigation, scaffold safety and many more. Students will be issued an ID card that can track trainings and certificates completed, and can also be accessed by future internships and employers.
"This partnership brings the best of two organizations and helps build our future leaders in construction," said Marjorie Del Toro, president and founder at ehsInc, CA. "The team at ehsInc, CA and I are excited and honored to have been given the opportunity to continue our work in ensuring that our future workforce is better prepared to conduct their position not only safer but provide them that complete advantage during their career development stages."
"By pooling AGC Student Chapter members with ehs Inc. Internationals complimentary access to training webinars, we are not only providing our student membership with value behind being a part of AGC, we are participating in a small part of shaping, quite literally, the future in construction by yielding better prepared students post-graduation," added Volk.
For more information about AGC CEF's programs and services, visit
http://www.agc-ca.org/cefoundation.aspx
About ehsInc, CA
Since 1997 ehsInc, CA, has provided the most comprehensive, accurate and stimulating training and consultative services available. They have educated over 150,000 thousand lives and worked with thousands of environmental, health and safety professionals. ehsInc, CA, is comprised of professionals whom are committed to understanding and assisting businesses by providing employees with convenient and cost-effective compliance training services, program development, environmental compliance and a large online resource of safety products. For more information on ehsInc, CA, visit www.ehsinc.org
About the AGC Construction Education Foundation
The AGC Construction Education Foundation was founded by the Associated General Contractors of California (AGC-CA), to establish construction as a viable career option and to promote the development of construction careers. It is a 501(c)3 non-profit benefit corporation, and relies on donations to carry out their mission. For more information on the AGC CEF, visit www.agc-ca.org/cefoundation.aspx
About the AGC Student Chapters
The AGC Student Chapters were created to blend the academic experience with practical real-world experience. Student Chapters must be at an accredited two or four-year community college, college, university or vocational-technical school, providing student members with opportunities to learn, network and develop relationships with other students with similar interests, professors and industry professionals, discounted professional learning opportunities.