Jazzercise Presents a New Muscle-Pumping Dance Fitness Workout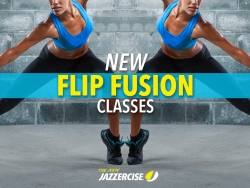 Carlsbad, CA, April 25, 2016 --(
PR.com
)--
Jazzercise, Inc.
has introduced a new class format to the mix, that's packed with muscle carving sets and short, intense cardio bursts. The name of this new circuit-based feel-it-everywhere workout is
Flip Fusion
. It's where heavy strength training and short cardio bursts collide in a class that works long after the workout is over. It's designed to pump up muscle, while keeping a consistently high heart rate to maintain calorie burn for hours.
"Jazzercise is the original dance party workout and we're still here because we know how to achieve the tight, lean, toned body customers are looking for," said Judi Sheppard Missett, Jazzercise Founder and CEO. "We are continuously mixing in new moves, new beats and new classes to keep customers challenged and breaking through plateaus. People who try our workouts for the first time are often surprised at how intense they are. Our new Flip Fusion class catapults that intensity to truly maximize results."
This dance fitness class makes you dig deep to sculpt muscle and shed calories throughout the workout, and for hours after class is over. Flip Fusion is a powerful total body workout that targets each of the major muscle groups while keeping customers' heart rates sky-high.
Jazzercise is a calorie-torching, muscle toning, hip-swiveling dance party workout with a hot playlist to distract from the burn. Customers can incinerate up to 800 calories in one 60-minute class. There are a variety of
classes
to choose from including Dance Mixx, Interval, Fusion, Strike, Strength, Core, Lo, and the latest addition, Flip Fusion.
About Jazzercise
Jazzercise, Inc. is one of the world's leading dance fitness companies with 8,300+ franchisees teaching 32,000+ classes per week in 32 countries around the world. Jazzercise is a pulse-pounding, bass-dropping fitness program that gets results…fast. Instructors train every year to master the Jazzercise method, which fuses cardio, resistance training, Pilates, yoga, kickboxing and the demanding forms of dance. Classes include Dance Mixx, Fusion, Strike, Core, Strength, Interval Dance Mixx and Interval Fusion. With constantly changing moves, new beats, a variety of workouts and calorie-crushing intensity, customers can expect to feel results after three classes and expect to stick with it. Stop working out and start working it...with Jazzercise.
To find local classes go to
jazzercise.com
or download the mobile app on iOS or Android. For more information visit jazzercise.com or contact (800) FIT-IS-IT.
Contact
Jazzercise, Inc.
Atena Moosavi
760-602-7136
www.jazzercise.com

Contact