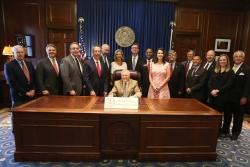 Atlanta, GA, April 27, 2016 --(
PR.com
)--
Habersham Funding LLC
, heralds the passage in the recent legislative session of HB 193, known as the Life Insurance Consumer Disclosure Act. The Act provides that consumers will be better informed of their rights under a policy and that licensed life insurance agents will not be subject to retaliation for ensuring consumers are informed. Governor Nathan Deal signed the bill into law April 26.
Atlanta-based Habersham does business nationally, providing the funds for life settlements, which enable seniors, and those who are terminally ill, to receive an advance cash payment for their policy.
Under Georgia's new Life Insurance Consumer Disclosure Act, "No insurer or any other person shall terminate, fine, or otherwise penalize an agent for: Apprising a policy owner or his or her designee of options under the policy terms to the lapse or surrender of the policy; or Assisting a policy owner with securing any benefits under the policy terms."
"Now, if life policy owners request to surrender or lapse a policy, agents may apprise them about and assist a policy owner to receive so-called living benefits under the policy, which may serve the consumer better than abandoning the policy," says M. Bryan Freeman, president and founder of Habersham Funding. "Equally important, HB 193 says that that life insurance companies cannot terminate, fine or otherwise penalize life agents for doing what agents have wanted to do all along – inform and assist life policy owners with these alternatives."
Freeman and the sponsor of the bill, Rep. Carl Rogers (R-Gainesville), as well as Sen. Marty Harbin (R-Tyrone), who sponsored a companion bill in the Senate, note that in the past some life agents may have been forbidden from informing their clients of alternatives to lapse or surrender. Life insurers receive greater benefit from lapsing policies when consumers – especially those facing financial hardship or illness – are not aware the very policies they are dropping contain generous "living benefits."
Most modern life policies contain these benefits, which might include the ability to get a loan against a policy or benefits like accelerated death benefit, nursing home benefit, critical illness benefit or the ability to get an advance cash payment through a life settlement. There are nearly 20 types of living benefits, with different life policies containing various numbers and combinations of those.
Rep. Carl Rogers and Sen. Harbin are licensed life insurance agents, as is Freeman, who has been licensed for 37 years; he has focused on helping thousands access life insurance settlements and other living benefits for more than 25 years.
Some of those gathered at the signing of HB 193 include: Andy N. Siegel, CPCU, CIC, AAI, President of Independent Insurance Agents of Georgia; David A. Culley CLU, ChFC, Past President, Association for Advanced Life Underwriting; David S. Johnson, Board, Georgia Association of Health Underwriters; Don Bolia, Government Affairs Director, Georgia Association of Health Underwriters; Jerry Wright, CLF, LUTCF, Georgia Chapter President-elect, National Association of Insurance and Financial Advisors; Phil Smelley, CIC, Georgia Chapter Past President, National Association of Insurance and Financial Advisors; Rep. Ronnie Mabra, Secondary Sponsor of HB 193; Roy Cranman, AEP, CLU, ChFC, Atlanta Chapter Past President, Society of Financial Service Professionals; Kenneth Pendley, CLU, ChFC, LUTCF, Georgia Chapter Past President, National Association of Insurance and Financial Advisors; Rob and Christi Estes, Consumer Advocates and Founders of Can't Never Could, Inc.; and Rep. Carl Rogers, Principal Sponsor of HB 193.
"Just as electronics and automobiles evolve with newer models and features, life policies have for some time now generally been much more than the well-known part of the policy – the death benefit," Freeman says. "Most are modern financial tools that contain many other benefits; consumers may be made aware of these when they are being sold a policy but may not be informed of these other robust features, even during times when they may most need them."
Life Insurance disclosures of this nature come as welcome news to health care advocates and the people they serve, as well as the life agent community.
Supporters of HB 193, many of whom reached out to legislators about and even testified in committee hearings for the bill, include NAIFA (National Association of Insurance and Financial Advisors) Georgia, representing 1,043 agents in the state, as well as various NAIFA chapters throughout the state, including Atlanta South, Macon, LaGrange, Savannah and Statesboro. Likewise, organizations including Cure for ALS, the ALS Association, Georgia Chapter, MDA of Greater Atlanta, and Can't Never Could endorsed the bill.
Habersham Funding holds licenses in 40 jurisdictions which regulate the life settlement industry and can purchase life policies in 47 states and Washington, DC.