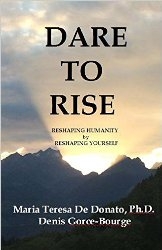 London, United Kingdom, May 03, 2016 --(
PR.com
)-- Maria Teresa De Donato, Ph.D. and Denis Gorce-Bourge embarked a 4 year journey to write this book and never met in person to this day. From an Italian living in the US and a French living in the UK, you will read a story which challenges your certitudes about your life.
Dare to Rise is written for the many people who feel a calling for more "awareness in living," who are looking to grow more consciously and find clear understanding of the mechanics of responsibility in action.
Unconditional Love grows when you learn to Love yourself more and take full responsibility for your circumstances as co-creator of your world.
If you want to find more resources within yourself instead of following the pressure to always look outside for answers, this book is for you. Through a deep exploration of various aspects of life (Love, relationships, sex, health and work) you are invited to embark a profound journey about you.
Dare to Rise is a practical book which will help you go beyond your fears and trust your guts and your Heart so that you can change what you thought was not possible, go beyond your limiting beliefs and to open a new field of possibilities.
www.amazon.co.uk/Dare-Rise-Reshaping-Humanity-Yourself/dp/1530926807