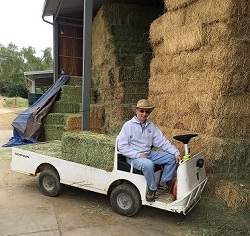 San Diego, CA, May 04, 2016 --(
PR.com
)-- Lithium Boost Technologies Inc., the leading provider of innovative systems to monitor and balance Lithium-ion batteries for low speed electric vehicles (LEVs) today announced the first installation of its solution in a Taylor Dunn vehicle. Phil Trubey, the owner of Willow Creek Stables (Encinitas, CA), pioneered the installation of Lithium Boost's 100ah system in his 2013 Taylor Dunn B2-48 flatbed hauler. Prior to this, Willow Creek Stables successfully installed the Lithium Boost's 60ah system in three of their E-Z-GO golf carts.
"I own a commercial horse stable and have converted three golf carts over to the Lithium Boost system" said Phil Trubey. "I researched all lithium-ion battery systems for golf carts and Lithium Boost was the clear winner due to cost and their unique charging technology. Unlike all other systems, they use a separate charger per lithium ion cell which significantly prolongs the life of each cell compared to competing systems. This gives you the added advantage of having an integrated charger and battery pack in a smaller area than the lead acid batteries took up. You end up with a much lighter cart with increased range, much longer lasting battery pack and no battery maintenance. This last one is key - boiling batteries, spilled water, dry cells, corroded cables, and replacing your pack every 2 years are all gone. Also note that they use high quality cells from a respected manufacturer."
Lithium Boost's patented solution was successfully installed in hundreds of low-speed electric vehicles such as golf cars, utility fleets, neighborhood transportation and hunting vehicles from various brands including E-Z-GO, Bad Boy Buggy, Polaris, GEM, Club-Car, Yamaha, and Columbia ParCar. Willow Creek Stables performed the first installation of Lithium Boost system in a Taylor Dunn carrier (Note: Taylor Dunn was recently acquired by Polaris Industries Inc.).
"As we hear from industry analysts, the boom in low-speed electric vehicles is an unplanned disruption in the electric transportation market," said Sam Lev, Lithium Boost's CEO. "We're experiencing a rising customer demand and our challenge is to make our patent-based lithium battery solution affordable to the masses. Early adopters, like Phil Trubey, support the further growth of innovative lithium power products by affirming the benefits of the advanced technology that is destined to replace the old lead-acid batteries for electric vehicles."
About Lithium Boost
Lithium Boost Technologies Inc. provides innovative systems to monitor and balance Lithium-ion batteries for low speed electric vehicles (LSEVs). Based on its proprietary technology, Lithium Boost has developed a performance-optimized system that includes smart BMS (Battery Management System) and chargers that allow to best harness the power of lithium-ion LiFePO4 prismatic cells.
Privately held, headquartered in San Diego, the company was founded in 2011 to lead the development of green energy system that can replace existing lead acid batteries in golf carts, Neighborhood Electric Vehicles (NEV), off-road, hunting, and similar low speed vehicles, while eliminating the maintenance hassle, and providing higher performance and longer life cycle at competitive cost. For more information:
www.lithiumboost.com