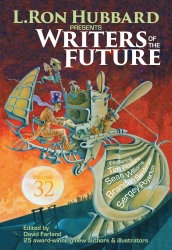 Hollywood, CA, May 05, 2016 --(
PR.com
)-- L. Ron Hubbard Presents "Writers of the Future Volume 32" with its introduction of 13 new winning writers and 12 artists has now officially released and is available broadly, including at
Amazon.com
, and in Barnes & Noble, and Books-a-Million. In its starred review, Publishers Weekly claimed the annual science fiction and fantasy collection of short fiction was "always a glimpse of tomorrow's stars."
The newly published writers include: Stewart C Baker of Dallas, OR; Matt Dovey of Lincolnshire, UK; Julie Frost of West Jordan, UT; HL Fullerton of New York; R.M. Graves of London, England; Sylvia Anna Hivén of Lawrenceville, GA; Rachael K. Jones of Athens, GA; Ryan Row of Berkeley, CA; Jon Lasser of Seattle, WA; Stephen Merlino of Seattle, WA; Christoph Weber of Reno, NV; J.W. Alden of Hypoluxo, FL and K.D. Julicher of Fernley, NV.
The newly published artists include: Christina Alberici of Sewell, NJ; Camber Arnhart of Albuquerque, New Mexico; Brandon Knight of Shawbirch, Telford, UK; Talia Spencer of Los Angeles, CA; Adrian Massaro of Neuquen, Argentina; Killian McKeown of Phoenix, AZ; Vlada Monakhova of Edmonton, Alberta, Canada; Paul Otteni of Kirkland, WA; Jonas Spokas of Kaunas, Lithuania; Preston Stone of Loveland, CO; Maricela Ugarte Peña of Monterrey, Mexico and Dino Hadziavdic of Bosnia and Herzegovina.
Additional stories from established authors include "The Last Admiral" by L. Ron Hubbard, the Steampunk tale "Hellfire on the High Frontier" by David Farland and "The Jade Woman of the Luminous Star" by Sean Williams.
In a special article entitled "Where Steampunk Started," Contest Judge and World Fantasy Award winning author Tim Powers tells the story of how the subgenre, based on Victorian fantasies, got its name.
And the most recent "Writers of the Future" judge, New York Times bestselling author Brandon Sanderson, enters in with his article "The Fine Distinction Between Cooks and Chefs" as he provides what he feels is the best writing advice he has to offer.
And with his amusing article "How to Drive a Writer Crazy," L. Ron Hubbard comments on the business of writing in reference to dealing with fickle editors.
The Writers of the Future writing contest (www.writersofthefuture.com) was initiated by L. Ron Hubbard in 1983 to provide a means for aspiring writers to get that much-needed break. Due to the success of the Writing Contest, the companion Illustrators of the Future Contest was created in 1988.
The intensive mentoring process has proven very successful. The 368 past winners of the Writing Contest have published 838 novels and nearly 4,000 short stories. They have produced 27 New York Times bestsellers and their works have sold over 50 million copies.
The 298 past winners of the Illustrating Contest have produced over 4,500 illustrations, 356 comic books, graced 594 books and albums with their art and visually contributed to 36 TV shows and 46 major movies.
For more information and to see the awards ceremony online, go towww.writersofthefuture.com.