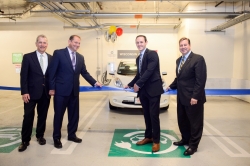 Chevy Chase, MD, May 25, 2016 --(
PR.com
)-- A successful launch of the 2 new Mini Bar EV Double Charging stations took place on May 10th at The Shops at Wisconsin Place. Their Mini Bar Charging Stations with their premium look are a perfect fit for this beautiful open air mixed use complex that includes shopping & dining. The CBRE Property Management and LAZ Parking combined efforts to bring Electric Vehicle Charging to the community. A Ribbon Cutting started the celebration with Kevin Kelliher, Real Estate Manager for CBRE doing the honors along with Leo Villafana, LAZ Mid Atlantic Division General Manager, Juice Bar EV's Paul Young, Senior Account Executive and John Bowls, owner of Chevy Chase Nissan.
The event continued with the opportunity for the community to experience a selection of Electric Cars. Ride & Drives were offered by Chevy Chase Nissan, they generously provided the use of 3 Nissan Leafs for the event along with representatives from their company to answer questions. The event received full support from the Electric Vehicle Association of Greater Washington, DC. Showing up in force with members and their amazing array of electric vehicles, happy to share their knowledge with the community.
Paul Young, Senior Account Executive at Juice Bar EV said, "It really is inspiring to see the community come together to support an event such as this. There were so many people willing to share their experiences, along with others that are interested in learning more about driving electric as well as companies such as CBRE and LAZ that are willing to be out there on the forefront to provide Electric Vehicle Charging Stations. We are pretty sure they are going to be seeing a lot more of those EV drivers at Wisconsin Place Shops!"
About Juice Bar EV
Juice Bar® EV is a premium provider of electric vehicle charging stations and the Green Garage Oasis® Amenity Center concept based in Tolland, CT. The Juice Bar charging station is not just an electric vehicle charging station, Juice Bar is a charging experience. Our highly visible premium charging stations provide an innovative concept in design and branding for Juice Bar EV charging station owners and creates a lifestyle option for end users. Made in the USA.
For more information, please visit
http://www.JuiceBarEV.com
Contact
Paul Young
860-308-2054 ext. 103
One Technology Drive
Tolland, CT 06084
Paul@JuiceBarEV.com
CBRE
The world's largest real estate services company, serving clients globally through seven business lines with services for all property types and asset classes. CBRE believes that they have both a responsibility and an opportunity to minimize environmental impact by influencing the way buildings are built, sourced, managed, occupied and sold.
For more information, please visit www.cbre.com
The Shops at Wisconsin Place
An open-air shopping center that is part of the mixed-use Wisconsin Place complex, located in Chevy Chase, MD.
For more information, please visit www.shopwisconsinplace.com
LAZ Parking
With more than three decades of parking experience LAZ parking offers a wide range of solutions including management, leasing, ownership and customer care center.
For more information, please visit www.lazparking.com
Chevy Chase Nissan
Proud to serve the Washington, DC area, and neighboring Bethesda, Rockville, Silver Spring and Gaithersburg areas. They are devoted to helping and serving their customers to the best of their ability, believing the cars they offer are the highest quality and ideal for their customers life needs.
For more information, please visit www.chevychasenissan.com
Electric Vehicle Association of Greater Washington, D.C.
An organization of electric vehicle owners, educators and enthusiasts dedicated to promoting the use of electric vehicles as an environmental and energy benefit to society. Many EVADC members don't own an EV, but attend meetings to learn more about the technology.
For more information, please visit www.evadc.com