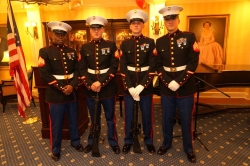 Washington, DC, May 30, 2016 --(
PR.com
)-- The Fifth Annual Memorial Day Kick-off and Tribute to Veterans on Tues., May 24, 2016 at The Capitol Hill Club in Washington, D.C. drew a crowd of 150 guests, including bipartisan Members of Congress, senior military members, embassy officials, senior staff and media. The evening featured a fine bourbon tasting by Beam Suntory, and hospitality by The Wine Institute and The Beer Institute.
Special guests included Master of Ceremonies Daniel Lippman of Politico, retired USMC Captain Jason Haag of the American Humane Association, and World War II veteran Arnold Taylor. Taylor served in the 99th Infantry in Europe in the US Army Military Police rising to Technical Sargent while in England after service with the 99th Infantry Division in Germany (early April to August 1945). Lippman's great uncle, Dudley Sharp, served as Air Force Secretary for President Dwight D. Eisenhower.
During a moving program, Captain Haag shared his story of the debilitating case of PTSD (post-traumatic stress disorder) which he endured, and the recovery he has experienced due to the incredible intervention and support provided by Axel, a German Shepherd dog trained to assist PTSD victims. Axel brought him his medicine at times he couldn't move, awakened him from nightmares, even nipping him if necessary, never leaving, never wavering, never doubting, when he was the only one who cared. His final statement to the stunned audience was that he discovered later that Axel was two days from being euthanized when he was assigned to Captain Haag.
Haag is the military affairs director for the American Humane Association that has worked with the US military for 100 years. They work to reunite soldiers with their war dogs, help military families, and aid military animals and welcome financial support. To help go to www.American humane.org/military.
Colonel James Tierney (U.S. Army-retired) of the famed 69th Infantry Regiment of New York was also recognized and offered a hallowed toast to our men and women in uniform. The "Fighting 69th" is the U.S. Army unit which was originally formed by Irish American soldiers around the time of the Civil War. Among other feats, member of this brave Irish-American unit helped train soldiers in the Irish Easter Rebellion (1916), which began the final push toward Irish independence. The 100th anniversary of the Easter Rising is being celebrated around the world all year. The Kennedy Center is hosting the pinnacle of the U.S. celebration this month with a three-week series of events to mark the occasion.
World-renowned tenor Anthony Kearns, a headliner for the Kennedy Center program, was on hand to contribute to both the honoring of The Fighting 69th and later sang several patriotic and classic songs to conclude the program. In addition to headlining a sensational Kennedy Center concert, Kearns also recently was the featured singer on Military Appreciation Day -- May 21, 2016 -- at the 141st Preakness Stakes. He is opening the National Memorial Day Parade Program on Monday, May 30, 2016.
The major purpose of the event – in addition to calling attention to veterans' causes – was to honor those who have continued their service to their country as elected representatives.
A true highlight of the evening was hearing from a bipartisan group of Congressional members who are veterans, including Representative Mike Coffman (CO), who served in the Persian Gulf War and later in the Iraq War. He was joined by Representative Charlie Rangel (NY), a decorated Korean War veteran; Peter King (also of New York, who served with the 69th Reg.) Don Young (AK), Ryan Zenke (MT), and others.
Their joint message is that having military experience is helpful to understanding the complex issues facing Congress, especially in these turbulent times, and they encouraged more veterans to serve in public office. Also, getting together on a bipartisan basis to share those bonds, and often a shared perspective, is a rare and good thing indeed.
As we honor our military, especially those who have fallen in battle, it is important to honor our strong national commitment to those who are suffering from war trauma and to ensure that they get the care they need, deserve and are owed. We also pay tribute all those who have served their country, and those serving it not once but twice in public office. The bipartisan reception was hosted by The Congressional Institute, American Veterans Center, SnoopWall, and others.
Photo Credit: Miguel Leonardo.