Dying to Be Free - The Compelling New Book Written by the Child of a Catholic Priest
After an unexpected accident and near-death experience, Hannah Robinson found herself radically transforming her life, while a remarkable new insight altered her relationship with her father; a practising Catholic priest.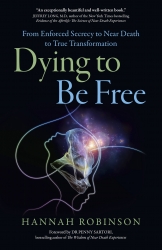 Los Angeles, CA, May 30, 2016 --(
PR.com
)-- John Hunt Publishing - O-BOOKS - announces the new title:
Dying to Be Free
From Enforced Secrecy to Near Death to True Transformation
Hannah Robinson
In this compelling memoir, Hannah Robinson relates how she was injured in an accident while on holiday in Tenerife, sustaining life-threatening multiple injuries. While still "unconscious" she entered a "near-death experience," where she experienced true peace and love. She also received the information she needed to come to terms with the biggest, negative issue she would continue to face; the life-long rejection and enforced secrecy of her father, a Catholic priest. While healing in the hospital and at home, Hannah started to understand how her father's actions and her near-death experience were inextricably linked; that they'd both occurred at all was more than just coincidence.
Take a look here:
https://www.amazon.com/Dying-Be-Free-Enforced-Transformation-ebook/dp/B01D27CBVI?ie=UTF8&qid=1464549904&ref_=tmm_kin_swatch_0&sr=8-2
Author Bio
Hannah Robinson was born in London and now lives in Buckinghamshire. UK. She gained a Masters degree from the Courtauld Institute of Art, London, before teaching art in secondary schools for twelve years. She is deeply interested in spirituality and consciousness and supports Coping International, an organisation set up to help the children of Catholic priests.
Reviews & Endorsements
This is one book you won't want to miss! Dying to Be Free is an exceptionally beautiful and well-written book. Hannah Robinson's near-death experience is dramatic. Her well-documented interactions with her father, a Catholic priest, have lessons of forgiveness for us all. The powerful insights and understandings in this highly recommended book could change your life. -Jeffrey Long M.D., author of the New York Times bestselling Evidence of the Afterlife: The Science of Near-Death Experiences
Hannah Robinson paints a view of the near-death experience unlike the thousands of others currently on the market. She shows us what it is like to be the daughter of a Catholic Priest, her Mother continuously turned down by Cardinals and parish priests when she asked for advice in how best to handle "the situation." Young Hannah's longing to be loved by her Father pushed her into a hedonistic lifestyle that climaxed when she ran off - ignoring passing cars and road hazards. From the blackness of a terrible fall, she awoke in light. . . an unbelievable, incredible, awe-inspiring light. . .everywhere light. Yet her body far below was surrounded by medics, an ambulance, and a flurry of activity in a rush to get her to a hospital. She felt both exhilarated and joyfilled, without fear. Pain and surgeries came later. What remained was the otherworldliness of what had just happened to her. One of the strengths of this book is the clarity she gained in coming to terms with the difference between the love she experienced "over there" and the despair she still had to deal with here. No matter how wondrous a near-death experience, it does not save you from having to face your problems. With a new consciousness, she discovered the power of forgiveness - a miracle unto itself. -P. M. H. Atwater, L.H.D, one of the original researchers in the field of near-death studies. Author of The Big Book of Near-Death Experiences
Hannah Robinson's life journey – from her near-fatal accident, to her resulting near-death experience – took her on a spiritual quest to understand the deepest meaning of those events. Her book is a well-written, well-documented testimony to living a life where self-creation, through love, is the greatest power. I thank you, Hannah, for sharing your story. ~ Dannion Brinkley, NDE Survivor, New York Times bestselling author of Saved by the Light and Secrets of the Light
Hannah Robinson, the author of this work, is the forbidden fruit of impossible love which unites a woman to a Catholic priest. Her narrative of NDE shows us to what extent this experience can determine to make us understand that the Love is over everything. Her story which is read as a novel is as moving as it is fascinating. ~ Jean-Jacques Charbonier, M.D., award-winning international speaker and author of "7 Reasons To Believe In The Afterlive" Inner Traditions Rochester Ve
Hannah Robinson has quite a story to tell, and a storyteller's gift. She speaks of a unique journey -- sired by a father who was a Father (a Catholic Priest), yet not quite her father -- and undergoing a grisly "death" that was not quite a death, but her birth into new light and life. For those interested in Near-Death Experiences -- and full-bodied experiences of struggle and healing -- you will find in Hannah Robinson a sympathetic soul. -Drew Leder, M.D., Ph.D., Loyola University of Maryland
Hannah Robinson bares her mind and soul in this heartfelt book, Dying to Be Free. Hannah's NDE signifies an amazing gift from God that led to personal change. Within the heart of this book beats a steady theme of personal transformation based on divine connection. Not only did Hannah begin to view herself through the divine eyes of love, she began to see her relationships from a perspective of unconditional regard. This was especially true regarding her estranged father. Because of this life re-frame, Hannah mended her broken heart by discovering forgiveness and peace. Personally, I was moved by this personal account of deep change through divine spirit and I have no doubt that many readers will share this sentiment. -Roy L Hill, Psy.D, author of Psychology and the Near Death Experience: Searching for God
Dying to Be Free is an astutely written autobiographical novel which captivates the reader from the first pages...(Hannah Robinson's) vivid narration of NDE is perfectly coupled with a powerful journey towards spirituality...The book is a lighthouse in the dark clouded sea, reminding us that nothing is predefined for any of us. The book is an excellent paradigm of Joseph Campbell's words; none of us live the life that we intended. The author vividly reminds us that our life's path is revealed to us through errors, challenges, pain and only if we allow ourselves to undertake and embrace such a quest will we be able to see and experience it. This is an inspirational book. -Nikolas Souvlakis, MBACP Accred. & Reg.,MBPsS, IAFP, Researcher of Spirituality and Psychotropic Disorders, Psychologist, Psychotherapist
A gripping account of the author's courageous struggles with her identity, the Catholic Church and a near-death experience. Hannah's story has a healing message of love, hope and peace regarding what lies ahead of us all. -Anna Lubelska, Director of Spiritual England and Coordinator of the Peaceful Schools Movement
Bravely challenging the accepted secrecy over children of priests, the author shares her personal struggle of identity and the Near-Death Experience that ultimately saves her life. -Tracy Goza, Ph.D., author of I Heart Heaven: A Psychotherapist's Biblical Validation of Near-Death Experiences
Hannah Robinson has written a truly moving narrative which encompasses the arc of her life and her search for answers...Hannah guides us from her initial rejection of organized religion to her realization of a higher spiritual directive which, unbeknownst to many of us, intersects all of our lives. Hannah illustrates that by examining the trials we suffer through and researching the experiences of others we can come to a rational comprehension of a Divine Spirituality...Hannah's experience is the epitome of the saying that truth can set you free. -Brian Foster, Spiritist blog at nwspiritism.com, author of What Really Happens During Near Death Experiences - According To Spiritism
Contact
Hannah Robinson
07951515755
http://hannahrobinson.webs.com/

Contact