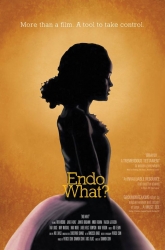 Atlanta, GA, June 07, 2016 --(
PR.com
)-- "ENDO WHAT?" is a groundbreaking new documentary exploring endometriosis, a chronic and debilitating illness affecting an estimated 176 million women and girls worldwide. After selling out screenings in New York City, Sydney and Los Angeles as well London, Auckland and Toronto, the film will have a special screening hosted in partnership with the Center for Endometriosis Care (CEC) on Thursday, July 14 at 6:30PM at Lefont Sandy Springs Theater, located at 5920 Roswell Road, Suite C-103, Atlanta, GA, 30342.
Endometriosis, a leading cause of chronic pelvic pain and infertility, can have significantly negative impact on an affected individual's quality of life. In the film, patients and thirty of the world's top endometriosis experts weigh in on the most accurate portrayal of the disease to date, exploring its history, causes, consequences and treatment options. The screening will be followed by an interactive panel discussion with Filmmaker Shannon Cohn, Laparoscopic Excision Surgeons and endometriosis specialists Dr. Ken Sinervo, Dr. Robert B. Albee, Jr. and Dr. Nicholas Kongoasa, along with other special guests.
Cohn, the film's Director & Producer, believes that empowering women through education is the most effective way to challenge a broken system to finally find a cure. "A perfect, awful storm exists when we're talking about endometriosis... societal taboos about 'below the waist' problems, misinformed doctors, ineffective treatments and a vicious cycle of misinformation unknowingly perpetuated by patients themselves. An estimated 176 million women worldwide suffer from endometriosis, and yet most people don't know anything about it. This film is going to change that," she said.
Hailed by the New York Times, The Guardian, Newsweek and others as a revolutionary tool to shatter myths, educate society and organize for change, ENDO WHAT? is the first film to include interviews with the world's top endometriosis experts and give a woman the tools she needs to take control of her health. The screening tour and digital release of the documentary are the first steps in an outreach campaign aimed at educating not only women and girls, but also health care providers and lawmakers worldwide. Funds grossed by the film will be used to support education and advocacy initiatives for women and informational programs for health care providers.
ENDO WHAT? is produced and edited by Arix Zalace, produced by Patricio Cohn and features, among others, River McBride, the daughter of singer Geoff McBride.
Tickets are $13 and must be purchased online at https://www.tugg.com/events/115161. The screening will be held Thursday, July 14 at 6:30PM at Lefont Sandy Springs Theater, located at 5920 Roswell Road, Suite C-103, Atlanta, GA, 30342. The expert discussion panel will immediately follow.
For more information about endometriosis and to watch the trailer, visit www.CenterForEndo.com and www.EndoWhat.com.