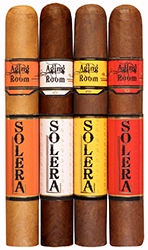 Miami, FL, June 07, 2016 --(
PR.com
)-- Boutique Blends Cigars presents the new Aging Room Solera. Rafael Nodal and Hank Bischoff first introduced Solera in 2005 as an exclusive brand in their Cigar Lounge in Miami Lakes, FL. The concept was developed after Rafael and his wife Alina visited Andalucía, Spain in 2004. Rafael not only fell in love with the Spanish country (where he is now also a citizen) but was very impressed with the method of aging Sherry wine and Brandy called Solera. The more he learned about the Solera aging system, the more he thought that this system could be used in the aging of tobacco.
The Solera method of aging is a fractional blending process where the finished product is a mixture of ages. By aging together tobaccos from different years, a marriage of flavors occurs long before the cigars are made.
"The aging of tobaccos from different vintages," said Rafael Nodal, President of Boutique Blends, "ensures the marriage of flavors and characteristics from different tobaccos, creating a unique cigar."
"Normally the tobaccos are aged separately and blended together at the time of rolling the cigar," explained Hank Bischoff, Vice President and co-founder of Boutique Blends Cigars, "but with the Solera system," continued Hank, "the result is a more mature aging and blending process yielding a more complex blend than previously attainable."
The Aging Room Solera will be available at the IPCPR show in Las Vegas in 4 wrappers, Sun Grown, Corojo, Maduro and Shade in boxes of 20 cigars with a unique bright and edgy design. Boutique Blends will begin shipping Aging Room Solera after July 15 to stores that are pre-ordering.
Initially they will be available in 3 vitolas in boxes of 20 cigars.
Festivo 52 x 4.7 with Pig Tail head
Fantastico 54 x 5.6 with Pig Tail head
Fanfare 57 x 6.125 Semi-Belicoso head
Each box color identifies a different wrapper. The Sun Grown comes in yellow, the Maduro is white, Corojo in red and Shade in orange.
The MSRP is also lower than other Small Batch Aging Room blends since the Solera process allows us to blend different vintages and reduce the cost of the tobacco and pass the savings to the consumers. MSRP from $6.95 to $7.96.
The Solera aging process and the cigars are being manufactured at Tabacalera Palma in Santiago, Dominican Republic.