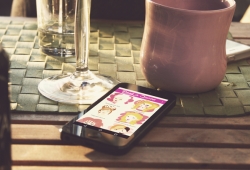 Toronto, Canada, June 08, 2016 --(
PR.com
)-- Though the entertainment style and art of drag has been around for decades, it has never been more celebrated or popular than it is today. With the unprecedented rise of RuPaul's Drag Race and a glitter-filled explosion of new drag talent arriving on the scene every day, Drag Queens of all ilk and stripe are showing their stuff all over the country like never before. But when it comes to landing new and better paying gigs, as well as venues searching for current drag talent, a new innovative app seeks to bridge the gap between Drag Queens and venues to help further develop this colorful and ever-growing niche.
A combined effort of both research and love ready to launch this June, LGBT Pride month, Book A Queen makes finding a Drag Queen entertainer for your venue or event simpler than slipping on stilettos, as well as a modern way for entrepreneurial Queens to further grow their brand and get noticed. True to this year's Toronto Pride theme "You Can Sit With Us," Book A Queen aims to bring Queens of all kinds together into one pastel-colored collective, celebrating the unity, diversity and overall positivity that Drag Queens have come to represent in the gay community.
For Queens, getting noticed can be hard, and landing solid bookings can be even harder. Take your Queendom to the next level with a full profile and past performance record so you can put your best heel forward when looking to expand your circle of events or just looking to find something new to get involved in. This app is designed to push and empower Queens, no matter their forte or experience, and allows for a less stressful process when trying to nail down your next gig or attempting to pitch yourself to a potential hiring party.
For venues and event coordinators, find nearby talent by browsing through all different types of Queens, from well-known Drag All-Stars and Celebrity Impersonators to glam Club Queens and Comedy Hostesses, while easily viewing their performance fees upfront with no surprises. Venue and user reviews of the Queens' past events allow for you to be absolutely sure you are booking the Queen who best meets your needs as an entertainer or host directly, without the hassle or costs of a expensive booking agency. The days of scouring the Internet or cold calling to find something new and lively to your event are over.
Perhaps most notably, Book a Queen is always welcoming new Queens to the application, as well as experienced talent known worldwide, to use its unique resources to continue becoming better known and landing better gigs. The app is currently looking for a Queen to be its official face and spokesperson, as well as be featured in all of the app's national advertising through 2018.
This labor of love not only aims to aid the drag entertainment sphere, but also to bring together an ever-growing sect of the community by creating a better way to do business. The application is free for all users to sign up, including drag entertainers, with no booking or membership fees. It's a bold and groundbreaking move to connect the gay and nightlife community like never before.
For more information on Book A Queen or becoming the face of the app, visit their website
www.bookaqueen.net
or their Facebook page
www.facebook.com/bookaqueen
.