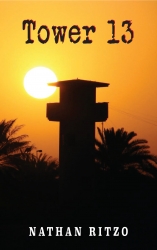 Ashland, OR, June 21, 2016 --(
PR.com
)-- Was the decision to invade Iraq a good one or a one of the worst political blunders of the 21st Century? A debate still in the news today, more than a decade after the fact.
But for Sergeant Mathew Duffy, a young American soldier stationed at Camp Victory, Baghdad, during Operation Iraqi Freedom II, the question never came up. He was there, like it or not, stuck in a hot, hostile environment. His job: to take to the guard tower with two other soldiers on the night of Saddam Hussein's arraignment - July 1, 2004. Thanks to the media's careless broadcasting of Saddam Hussein's location, Sgt. Duffy and his team would face numerous dangers from within as well as without.
Based on the actual experiences of soldiers who were there, "Tower 13" ($15.95, paperback, 266 pps, Hellgate Press) affords the reader an intimate, realistic account of a soldier's day-to-day life at war.
Author Nathan Ritzo is a U.S. Army veteran from Portsmouth, New Hampshire, who served two tours in Iraq. One was at Camp Victory, Baghdad, in 2004, and the other in the International Zone, Baghdad, 2007. He currently resides in Portsmouth with his two daughters. This is his first novel.
"Tower 13" is published by Hellgate Press (www.hellgatepress.com), a leading publisher of military history, veteran memoirs, historical fiction and adventure travel books, and is available in paperback and ebook on Amazon.com and wherever fine books are sold.