Poets Choice Publishing is Proud to Launch the Fourth Collection of Poetry by W. M. Rivera, Featuring Art Work by Master Painter, Miguel Condé: CAFÉ SELECT
Poets Choice Publishing working with the WilliamMeredithFoundation.org, has recently been established to promote high quality poetry by established and emerging poets, including this year's 2016 Meredith Award for Poetry presented to Gray Jacobik. William Rivera's latest collection, CAFÉ SELECT continues the publishers dedication to challenging voices for serious readers of poetry and fiction. Poets-Choice.com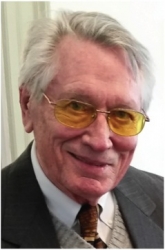 Uncasville, CT, June 23, 2016 --(
PR.com
)-- Poets Choice Publishing is proud to announce the publication of the fourth collection of poetry by W. M. Rivera, featuring art work by master painter, Miguel Condé:
CAFÉ SELECT
William Rivera has lived and worked in numerous countries around the globe, and is a true citizen of the world. He first met the master artist, Miguel Condé in Mexico in the 1950's, and their pathways have continued to come together, as do the poems and images included in three extensive galleries of Condé's art in CAFÉ SELECT. The book's title takes its name from "Le Select," the Montparnasse café in Paris which provides the imaginary background from which Rivera reviews his experiences and life's adventures; and reading Rivera's poems is like tasting a well-aged glass of wine, a wine that "trembles like flame," as Apollinaire has written. One thinks of the late poems of William Butler Yeats for their sophistication and erotic punch, poems beautifully mirrored by Condé's images.
W. M. (William McLeod) Rivera is a retired agricultural educator. His academic background includes a B.A. from the University of North Carolina, M.A. from The American University in Washington, D.C, and Ph.D. from Syracuse. He taught agricultural extension and development at the University of Maryland (UMCP) from 1981-2009. He is the author of three previously-published collections of poetry: BURIED IN THE MIND'S BACKYARD, THE LIVING CLOCK, and NOISE. His work has appeared in various periodicals such as The Kenyon Review, Prairie Schooner, and The Nation among others. Recognition for his work includes a recent Pushcart Prize nomination and critical acclaim from authors such as Grace Cavalieri who describes his recent collection as, "Breathtaking."
Critic and editor, S. Scott Whitaker offers this insight into CAFÉ SELECT, a collection of poems that will not disappoint:
"Rivera's poems rattle the senses. His poems compose order from chaos, and his eye is ever looking. With a Romantic's ear for lyricism Rivera's poems explore mankind's highs and lows, our lust for beauty, and the folly of love."
Contact
Poets Choice Publishing
Richard Harteis
860-961-5138
www.poets-choice.com
www.WilliamMeredithFoundation.org

Contact
Multimedia
Critic and editor Scott Whitaker introduces CAFE SELECT, William Rivera's latest collection of poetry available through Poets-choice.com and other distributors internationally. Bulk discounts through Poets-choice.com