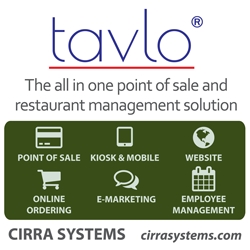 Park City, UT, June 24, 2016 --(
PR.com
)-- For the first time in its 40 year history, a Utah Arts Festival attendee will be able to order food quickly, easily and securely from a tablet-based self-order kiosk. Yoshi's Japanese Grill was granted permission by the Utah Arts Festival to use a new point of sale system developed by Park City, Utah-based Cirra Systems LLC that integrates self-ordering with traditional countertop and mobile point of sale (POS). This year the festival runs from June 23-26 in Salt Lake City, Utah.
Yoshi's Japanese Grill has been a food vendor at the Utah Arts Festival for many years and has become a favorite among attendees. This year, Yoshi's Japanese Grill will be bringing their new food truck, Yoshi's Enso Grill. "Last year was our best ever and this year we expect to serve even more with our food truck," said Eddee Johansen, owner, who expects over 1,000 customers on Saturday, the busiest day of the festival.
To find a way to efficiently handle the heavy demand they turned to their restaurant POS provider, Cirra Systems. The company installed a Tavlo mobile point of sale system in the order window along with two tablet-based kiosks where customers can order and pay with a credit card. The kiosks boost ordering capacity without extra labor cost.
To further increase operation efficiency, speed of service, and minimize mistakes, Yoshi's Enso Grill opted for Tavlo's kitchen display system (KDS) instead of handwritten tickets and paper printouts. Cirra Systems installed two large 24-inch LCD monitors to display orders coming from the window and the kiosks. "We use Tavlo's KDS at the restaurant so it's key for our staff. It minimizes confusion and speeds up service so our customers don't wait as long for their food," said Eddee.
"As popularity of food trucks go up, so have the lines," said Jim Ngo, President of Cirra Systems. "We are excited to bring our point of sale system to this growing market segment and to deliver the features that help owners grow their operations. Yoshi's Enso Grill is a great example of how Tavlo was designed to increase efficiency, capacity and restaurant revenue. It's probably the most advanced food truck in the country."
About Cirra Systems, LLC
Cirra Systems, LLC is a software company specializing in restaurant management systems. It was founded in 2014 by Jim Ngo, who is now the company's President. Cirra Systems is based in Park City, Utah.
Related Links
www.cirrasystems.com