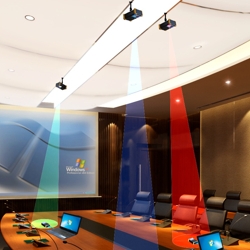 San Diego, CA, June 30, 2016 --(
PR.com
)-- LightPointe Communications, Inc., which is the dominant manufacturer of long range outdoor point to point wireless bridges using radio frequency and laser technology, announced that it has formed and co-owns a new company aimed at the emerging hot tech sector referred to as Visible Light Communications and LiFi, or Light Fidelity. The new company, Firefly Wireless Networks LCC, has launched after two years in "stealth mode," with LightPointe's R&D labs in San Diego, California serving as the technology incubator. Firefly is owned by LightPointe Communications, the number one manufacturer of hybrid 60 GHz radios, 80 GHz radios, and Free Space Optics solutions, Berg and Berg Enterprises, a multi-billion dollar venture capital firm, and Teleconnect GmbH, a telecommunications engineering company.
Firefly Wireless Networks' engineers have already received patents in the Visible Light Communications (VLC) sector, and have developed initial products for highly secure data communications utilizing light, rather than WiFi and other radio frequency transmission technologies. VLC and LiFi technologies have recently gained attention as an alternative to WiFi and such RF communications methods, since WiFi and RF spectrum have become congested and are prone to interference and reliability issues. In addition, by using light spectrum—which is up to 10,000 times more plentiful than radio frequency spectrum— communications are virtually impossible to intercept, thus avoiding cyber security and eavesdropping threats. This makes VLC ideal for sensitive government and commercial networks, as well as mass market implementations in which low cost connectivity is required between devices.
"After operating discreetly in stealth mode for two years, we are excited to finally announce Firefly Wireless Networks," said Dr. Heinz Willebrand, who is serving as CEO of Firefly, and also continues to serve as Founder and CEO of LightPointe. "LightPointe invested resources and created Firefly to focus on what is one of the hottest technology growth sectors on the horizon, Visible Light Communications, which due to the proliferation of LED lighting and LED use in commercial and residential devices, is expected to be a multi-billion dollar industry in the coming years. VLC technologies are one of the communication methods which the so-called Internet of Things will use to connect millions of consumer electronics and Machine to Machine (M2M) devices cost effectively, and without the use of scarce radio frequency spectrum. LightPointe's participation and co-ownership of Firefly Wireless Networks means that LightPointe is positioned as the only company with end-to-end solutions for both indoor and outdoor high capacity wireless bridges using the best technologies for the application—radio frequency, Visible Light Communications, and Free Space Optics laser bridges. No other company comes close to our broad portfolio of affordable indoor and outdoor wireless bridges."
"Our first product emerged from research and development a few months ago, has completed thorough testing, and is awaiting FCC approval," said Andreas Bluschke, chief technology officer of Firefly Wireless Networks, who also serves as managing director of Teleconnect. "The Office SecureLink™ is a highly secure indoor Ethernet communication bridge for point to point, and point to multi-point connectivity, using red, green, blue, or invisible infrared light. The access point and client, or subscriber units, can be installed in conference rooms, offices, and other indoor environments where the utmost in security is desired while avoiding WiFi congestion and signal security issues."
According to some research reports, the market for Visible Light Communications could reach over US$100 billion by 2024, as the Internet connects millions of devices around the world autonomously and seamlessly.
The announcement on Firefly Wireless Networks was made at GSMA World Congress Shanghai, and SmartGigabit Bay Area.