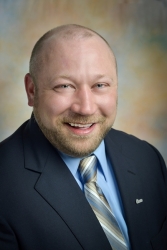 Hamilton, NJ, July 06, 2016 --(
PR.com
)-- Timothy Jones has been named a consultant within the Real Estate Practice of New Day Underwriting Managers LLC, a leading specialty intermediary of environmental and construction-related professional liability insurance coverage. His responsibilities include working closely with New Day's broker partners to provide optimal environmental risk management solutions to insureds representing the chemical, petrochemical, energy, manufacturing, commercial and habitational real estate, universities and healthcare industries.
"Tim is a veteran insurance industry professional with a solid background in engineering, environmental studies and regulatory management," says John Heft, senior vice president and director of New Day's Real Estate Practice. "His proven communication skills and ability to interact with agents and brokers firmly aligns with our mission to establish ourselves as the premier resource in this marketplace. Knowledge and responsiveness are key and Tim certainly has the skill set to simplify the complex in this challenging environment."
Prior to joining New Day, Jones spent nearly six years as a senior underwriter at AIG Environmental underwriting Pollution Legal Liability and Contractors Pollution Liability policies. He also held several regulatory and environmental compliance positions with Hukill Environmental Services, Shiloh Industries, Morgan Electro Ceramics, Clayton Group Services and MTD Products Inc.
A resident of Akron, Ohio, Jones holds a Master of Arts Degree in Environmental Studies from Cleveland State University and a Bachelor of Science Degree in Mechanical Engineering with a minor in Engineering Management from Kettering University. He can be contacted at 609-298-3516 ext. 128 or timothy.jones@newdayunderwriting.com.
About New Day Underwriting Managers LLC
New Day Underwriting Managers LLC is a specialty resource for agents and brokers, assisting them and their clients find appropriate, high-quality environmental and construction-related professional liability insurance coverage. The company offers agents and brokers single-point access to an ample portfolio of products and services provided by the nation's largest environmental and professional liability insurance providers. Additional company information can be found at www.newdayunderwriting.com.