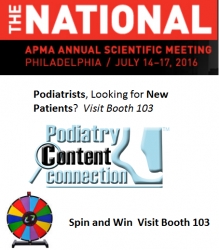 Metuchen, NJ, July 09, 2016 --(
PR.com
)-- "It's all about gaining new podiatry patients and paying attention to your existing ones," says Podiatry Content Connection's (PCC) Director of Marketing, Jeff Hartman. "I am excited to announce the offering of an automated online marketing system that does it all."
The new system offered by PCC will survey patients after their visit and allow them to post positive comments to Facebook, Google+, Healthgrades and Yelp. If a patient requires care, the system will save his or her feedback in the customer relationship management (CRM) software so a staff member can reach out to the patient. Great customer service is the key. In addition, the system uses SMS, or text messaging, and email to remind patients when orthotic replacement, annual diabetic screening, nail and other foot and ankle concerns.
When you add this system to PCC's blogging and content marketing you have the best web and social marketing available for podiatrists. Over the last three years Podiatry Content Connection has been working with the Temple School of Podiatric Medicine, The New York College of Podiatric Medicine and recently Kent State University to deliver online marketing to help their alumni gain more new patients from the web.
The APMA conference held at Philadelphia's Marriott and Convention Center runs from July 14th to July 17th. If you are a podiatrist, be sure to visit booth 103 and learn more about their automated marketing program for podiatrists, Dominate 360, while taking a spin from their prize wheel, as everyone is a guaranteed to win.
Website:
www.PodiatryContentConnection.com
More info: support@podiatrycc.com