Does Chromista Oil DHA Protect Against Fatal Heart Disease?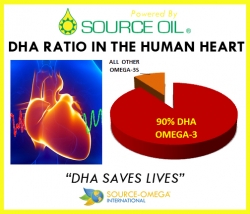 Mason, OH, July 25, 2016 --(
PR.com
)-- Source-Omega today reiterated its active structure function claims in lipoprotein health and heart health and again asserted 'DHA Saves Lives' (1). Their claims statements are supported by the recent National Institutes of Health (NIH) article from June 12, 2016 (
www.nih.gov
) in Research Matters titled 'Omega-3s Linked with Lower Risk of Fatal Heart Attacks' (2), and the JAMA Internal Medicine research results published June 27, 2016 (3).
The authoritative 2016 references affirm fatal heart disease is a literal endpoint benefited by DHA omega-3s and the other shorter forms of omega-3 fatty acids when consumed at elevated dietary intake levels over time.
Source-Omega LLC is developer of Class 1 branded ingredient SOURCE OIL®, Chromista oil water extracted Schizochytrium sp. algae oil. The company maintains public health advocacy and scholarly publications in support of the DHA ratio in human heart tissue, which is 90 percent of all omega-3 fatty acids in the heart.
"DHA levels are ten-fold higher than any other omega-3 fatty acid in the human body. Individual omega-3 status is therefore based mostly on DHA levels, either consumed directly or derived from all other forms of omega-3s in the diet. Higher individual omega-3 status is linked to lower individual fatality by heart attack. So even if the world has not been able to stop all heart attacks, there is now specific evidence that shows a dietary buffer could be occurring with higher omega-3 intakes. The more omega-3 fats in the diet, the more DHA is produced and also stored in the body. Building up DHA is based on how much total omega-3s are in the diet. Clearly, it's more likely that one will survive an otherwise fatal heart attack. That is what the data says. We suggest DHA is the one lipid marker that may become more widely used as a standardized heart health indicator. It certainly can mean a statement like 'DHA saves lives' is scientifically qualified," said Dr Scott Doughman, PhD, CSO and CEO of Source-Omega, LLC.
About Source Omega
Source-Omega (http://www.source-omega.com) is the leading Chromista oil innovations company since 2007 serving health by offering a unique water extraction process in algae oil, lowering prices and improving quality. Preformed DHA has also been defined in Source-Omega's publications to be safe and effective for adults at 1200 mg DHA/day for lowering triglycerides (1).
References:
1) Scott. D. Doughman, Ph.D. et al., 2013; High DHA dosage from algae oil improves postprandial hypertriglyceridemia and is safe for type-2 diabetics. Int J Diabetes Dev Ctries (DOI 10.1007/s13410-013-0125-3).
2) Carol Torgan, Ph.D. June 12, 2016; Omega-3s Linked with Lower Risk of Fatal Heart Attacks (https://www.nih.gov/news-events/nih-research-matters/omega-3s-linked-lower-risk-fatal-heart-attacks).
3) Liana C. Del Gobbo, Ph.D. et al., Published online June 27, 2016; ω-3 Polyunsaturated Fatty Acid Biomarkers and Coronary Heart Disease Pooling Project of 19 Cohort Studies. JAMA Internal Medicine.
Contact
Source-Omega, LLC
Gene Wolf
919-360-5275
www.source-omega.com
11312 US 15-501 North, Suite 107-122
Chapel Hill, N.C. 27517, USA

Contact