Max Alley Delivers 3 Family Dollar Stores for Simultaneous Grand Openings
Fast Track process and great people deliver record breaking development and construction activity for July 2016.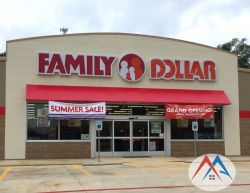 Texarkana, TX, August 04, 2016 --(
PR.com
)-- Max Alley's Construction Group overcame record setting spring rainfall in Texas which allowed Family Dollar Stores to simultaneously open 3 new stores on July 30th, 2016!
Under the leadership of Duane Shelton, VP of Construction, projects in San Antonio, Longview and Winona, Texas were all delivered within budget and ahead of schedule.
In addition to the openings celebrated on the 30th, Max Alley fast tracked July deliveries of three additional family Dollar Stores located in Conroe, Port Arthur and Tyler.
[MAP]
A 9 year veteran of the company and VP of Construction, Duane Shelton offered praise to the entire Max Alley Team. According to Shelton, "The high expectations set by Curt [Green] and James [Herrington] have trickled down to every last employee and subcontractor, making this a very successful month for us and our partners."
Max Alley has been a preferred developer and contractor with Family Dollar for almost 18 years and won dual recognition in 2015 as Developer of the Year and Contractor of the Year. The Company has completed over 250 free standing stores while remaining loyal to the Family Dollar brand amidst a variety of discount retailers.
Contact
Max Alley
Andy Hovis
832-721-7409
www.maxalleyllc.com

Contact