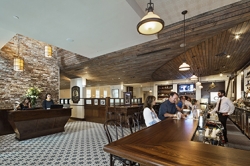 Brooklyn, NY, August 03, 2016 --(
PR.com
)-- Docks Oyster House has been an important part of Atlantic City since 1897. The landmark restaurant has gone through half a dozen renovations and expansions in its 120 year history. For the last two projects, the fourth generation owners, brothers Frank and Joe Dougherty, and partners Maureen Shay and Bernadette Dougherty hired Lynn Gaffney Architect of Brooklyn, NY. In 2000, Ms. Gaffney and her team renovated Docks front-of-house within the existing footprint. In 2015, she led the design efforts for the current large expansion and full renovation. In the interim, they've worked together on the family's other restaurants, Knife and Fork (2005) and Harry's Oyster Bar (2011), both of Atlantic City.
Docks Oyster House is now a 14,000 SF restaurant – completely new except for the original façade and some of the prior structure. A main feature is the first floor ceiling hovering over a central dining area and part of the main bar. Lynn Gaffney explains, "The hull-like ceiling is a visual focus from most vantage points in the restaurant - it makes quite an impact. This ceiling helped us organize an open first floor plan into distinct spaces. Practically speaking, the hull created room for HVAC ductwork and structural elements. The aged wood planks with gaps between help absorb sound."
The front-of-house (approx. 62% of the restaurant), consists of four separate dining areas that work well together but feel comfortable on their own during select functions or slower seasons. Indeed the restaurant's successful design allows a customer to experience Docks differently each visit with contrasts in materials and spatial proportions. The 2nd Floor event room connects visually to the two-story hostess area and opens to the 2nd floor bar during larger events while it can easily adapt to a more private setting if required. Each floor has its own bar, the first floor bar almost encompassing the entire area of the prior Docks front-of-house. Its back bar display has a steady rhythm as well as a witty play with the traditional oyster bar finishes.
"The clients have always had a detailed focus on what makes their restaurants so successful in a difficult market. They recognized that for Docks to enjoy continued success, it needed double the amount of dining seating, an expansive bar, a modernized kitchen and private event rooms and these spaces all needed to be flexible," says Lynn Gaffney, AIA. Frank Dougherty adds, "While we knew it was time to expand, we also knew that we needed to preserve the Docks 'feel' our customers have loved for decades. Lynn's design helped us retain our history while offering an impressive new space. People love it"..Maureen Shay points to Lynn's ability to bring the partners together on subjective design decisions, "Lynn has always listened well to our requirements and suggestions, creating an overall vision to meet our criteria. Lynn's team presented us with thoughtful concepts, diagrams and drawings – enough choices but not too many – and she helped us come to consensus along the way."
Lynn Gaffney enjoys tackling the practical food service requirements as well as the cultivated mood of the design. "Very early during programming and schematic design, we work with the clients to figure out how people will work there. Limiting crossover between the service and customer pathways, offering discreet sightlines to the staff, hiding service stations, points of sale, and drink/food pick-up in convenient locations – all these factors matter. It helps so much to have professional restaurateur clients who can dissect this stuff with us early during a diagrammatic stage." Frank Dougherty has repeatedly worked with Lynn because of this enthusiasm. "Lynn puts the business at hand as top priority. She always incorporates our feedback, our experience, into a very functional restaurant – she gets it." He continued, "The whole design and construction team worked hard on Docks – on getting us to be able to have a very successful summer 2016 thus far. We started talking about the project with Lynn in mid-February 2015 and had our soft opening just over 15 months later. We're confident that this renovation will look better the longer it's open and take us through decades to come."
After schematic design, Lynn Gaffney Architect and the clients began collaborating with SOSH Architects of Atlantic City, as architect of record and John Mirenda Construction of Northfield, NJ as construction manager. SOSH managed the project through Construction Documents and Atlantic City's lengthy approval process. John Mirenda's team was involved early to keep the project costs and schedule on track and managed all aspects of construction. Other team members include Corsi Associates Food Service Design of Springfield, PA, upLIGHT Lighting Design of New York, NY, Czar Structural Engineering of Egg Harbor Township, NJ, Concord Mechanical Engineers of Atlantic City, NJ, and Arthur Ponzio and Associates Civil Engineers of Atlantic City, NJ.
Chris Menchin of SOSH Architects says, "Lynn Gaffney did an excellent job with the project's organization and layouts which were compelling, clearly presented and offered certainly the best opportunities for the redevelopment of Dock's Oyster House. We've worked with Lynn and her firm on a few restaurants now and we've enjoyed their design sense as well as their easy collaboration with the entire design and consulting team."
About Docks Oyster House
Owned and operated by the Dougherty family since 1897, Dock's Oyster House is an Atlantic City institution. Dock's is renowned for the freshest seafood in town along with great steaks and an award-winning wine list. http://www.docksoysterhouse.com/
About Lynn Gaffney Architect
Based in Brooklyn and founded in 1997, Lynn Gaffney Architect is a full-service architecture firm published nationally (i.e. Dwell, Metropolitan Home, and New York Times). Lynn Gaffney Architect's projects are diverse in scale, spatial qualities, and style. Current projects include restaurants, educational complex, multi-family housing, and single family residential. Team for Docks Oyster House – Lynn Gaffney, Didi Medina, Sheryl Jordan, Dianna Pozdniakov.
www.lynngaffney.com
Photos by Archphoto of Brooklyn, NY
Contact
Lynn Gaffney Architect, 540 President Street, Third Floor, Brooklyn, NY 11215, contact@lynngaffney.com, 718-362-3027