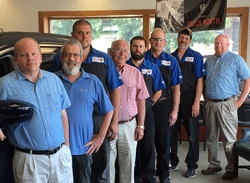 New Glarus, WI, August 03, 2016 --(
PR.com
)-- New Glarus Motors, LLC., a privately owned and operated Chrysler, Dodge, Jeep, and RAM dealership located in New Glarus, Wisconsin, is proud to announce that we are a recipient of the 2016 Spectrum Award of Excellence in Customer Satisfaction from City Beat News. Receiving this award emphasizes their ongoing commitment to their customers.
­­Matt Dierksmeier, Vice President of New Glarus Motors stated, "We are proud to be recognized for our commitment to our customers. At New Glarus Motors, we take the pledge of customer service seriously and know that in order to grow our business, we must focus on the customers and how we can streamline their buying experience by saving our customers time and money in providing them with the products and services they need."
The Spectrum Award of Excellence in Customer Satisfaction is an independently researched award designed to recognize local and small businesses that truly excel in customer service and experience. New Glarus Motors is particularly proud to receive this award as recognition for the personalized care we endeavor to give each and every customer who enters our dealership. According to Allen Cash, Branch Manager, excellent customer service begins before the customer even makes contact with us.
"We take the time to make sure our inventory, both new, used and parts are what our customers are looking for and if it's not, we'll work to find what they need. Our service department takes particular pride in making sure each customer's vehicle is serviced the right way, the first time, so you have confidence and no worries when you leave." Cash continued, "By taking the time to carefully listen to our customers' unique needs, we personalize their experience with us. Our friendly team promotes a welcoming environment to make them feel comfortable from the moment they walk through our doors or call us to schedule an appointment. Throughout their experience here at New Glarus Motors, we make sure we are providing a solution to their needs and answering any questions they might have, ensuring a smooth and pressure free experience."
The Spectrum Award of Excellence in Customer Satisfaction is evidence that they are meeting their own high standards for customer care and aim to continue to find new ways to better improve our products and services.
About New Glarus Motors:
New Glarus Motors is a division of Badger Truck Center. Established in 1965, Badger is a second generation, family-owned dealership with locations throughout southeastern Wisconsin. New Glarus Motors is a 2014 addition to the Badger Truck Center family and includes the Chrysler, Dodge, Jeep and RAM franchise. Additionally, New Glarus Motors provides a complete service and parts experience for all vehicle makes and models. Selling to the retail and commercial market, New Glarus Motors' philosophy of teamwork, integrity and open communication with customers ensures they get the vehicle they need and want at the best value. Located in New Glarus, Wisconsin, New Glarus Motors serves customers nationwide. To learn more, visit our website at www.newglarusmotors.com, or call 608-527-5080.