Pre-Orders Announced for World's First Wireless Smart Parking Device
FenSens pre-orders launch today, making parking safe and simple with a patent pending smart license frame & hands-free automated mobile app experience for any car.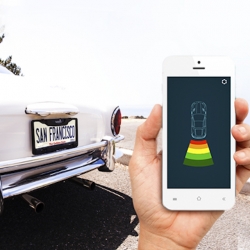 San Francisco, CA, August 04, 2016 --(
PR.com
)-- FenSens, designer consumer electronics with a focus on making new car technology available to everyone, makes available for sale, the new FenSens Smart License Plate Frame today on
Indiegogo
. The Indiegogo pre-order campaign will feature special unlockable perks which gain access to the "Kammy" backup camera version and 4 free plate colors.
The handy FenSens device is designed for the everyday driver, allowing them to retrofit backup sensors on any car in under 5 minutes with only a screwdriver. The license plate frame, with embedded ultrasonic sensors, detects objects in the driver's blind spots and notifies them via audio, visual, and vibration alerts on their smartphone. No wiring or professional installation is needed.
At only $99 as a special Indiegogo early bird price, you can now enjoy parking sensor technology in any vehicle with a standard US license plate, without having to mess with wiring or install any additional LCD monitors in the car. Current alternatives can be expensive, with dealership installs costing over $1,000 and professional help costing over $300 on Amazon for help with installation of wired kits. With the FenSens, it's now more affordable than ever, but most importantly, it works right out of the box without professional help. After the Bluetooth-enabled smart license plate frame is installed via 4 security screws (to prevent theft), your Android mobile application will automatically launch when you start backing up; It's so easy-to-use, you don't even have to pull your phone out of your pocket. This is made possible by an accelerometer to detect the car's backward motion and real-time Bluetooth streaming between the device and the mobile phone. The hands-free mobile application provides audio (beeps), visual (display), and vibration alerts to the driver when an object, such as a car, is detected in the car's rear blind spot.
The FenSens is ideal for anybody that wants today's new car parking sensor technology at an affordable price, without messing with complicated wiring. Whether you are a busy professional scrambling to work in the morning, trying to fit into that perfect parking spot downtown or you're a concerned parent that wants to know your new student driver is more safe on the roads, the FenSens gives you eyes in the back of your vehicle. OSHA research also shows that traffic incidents are the #1 cause of death in the workplace, making FenSens an important safety device for commercial fleet vehicles.
While many people want parking assist technology, it hasn't reached mass market adoption yet and the NHTSA says that it will take until at least 2054 before all cars on the road in the US have parking sensors or cameras. Because of this, 90% of the cars on the road still do not have backup sensors and we see 15,000 injuries, 1.8 million rear end accidents, and over $7 Billion in personal and property damage in the US from backup related incidents. "We believe this great technology hasn't been adopted because it's either too expensive or much too complicated for the average driver to get value out of it," said Andy Karuza, CEO at FenSens. "We decided to do something about it by focusing on delivering the best possible user experience that technology allows. Last time I bought a 'self-install kit,' it sat on the shelves, never to be used; nobody wants a product that doesn't work right out of the box these days." While safety is important, it is a concept that gets shelved more often than not, if it's too difficult to obtain.
The FenSens Parking Assist model will be available first on Indiegogo with the Fender Defender version coming at a later time. The Parking Assist device at $150 MSRP is ideal for detecting objects directly behind the vehicle with the consumer able to choose their own colors, if they would like. The campaign stretch goal of $1,000,000 unlocks free colored FenSens plate frames for every backer. Furthermore, if $2,500,000 is reached, every backer will unlock the "Kammy" backup camera version for $50 off the MSRP of $249.99 and one month before anybody else can get it.
FenSens Features
Bluetooth LE real-time wireless technology.
Easy setup - install frame with 4 security screws (prevents theft), download mobile app, and use instantly.
Sophisticated anti-theft software and buzzer will sound alarm if a thief tries removing it.
Compatible with standard US license plate frames without immediate physical obstructions of the license plate.
Li-Ion rechargeable battery lasts 5 months and can be recharged via USB by popping out the battery pack and charging it indoors.
Waterproof ultrasonic sound sensors with effective range of up to 10 feet.
Water and dust-proof IP65 rated design
Note: Please review local state license plate rules. FenSens covers about as much space as any traditional license plate frame, but state law requires the license numbers and vehicle registration tabs to be clearly visible.
Get yours today on Indiegogo to ensure you are one of the first to get this product and at the special limited price of $99 ($50 off). Make sure to grab one at this great price, before they are gone. More backers will unlock greater rewards including free colored plates and a backup camera version. To connect with FenSens, visit Facebook, Twitter, or the website. For more information on the FenSens, media members may contact our PR team at info@FenSens.com or call 360-920-1637.
About FenSens
FenSens, (pronounced as Fen-Sens,) creates designer consumer electronics that make new car technology affordable and available to all car drivers. The company was founded in Seattle, WA and incubated in San Francisco, California. All FenSens products come with a one-year warranty and are quality assurance tested.
Contact
FenSens
Andy Karuza
360-920-1637
fensens.com

Contact
Multimedia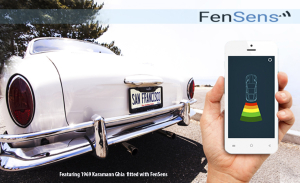 FenSens makes parking safe and simple with a smart license frame & automated (hands-free) mobile app (iOS, Android) experience. Patent Pending.