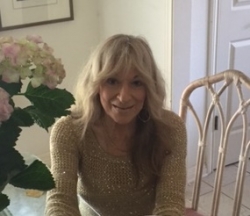 Austin, TX, August 06, 2016 --(
PR.com
)-- About Jeanette Friedman
Jeanette Friedman is the Owner of Phara's Mediterranean Cuisine, LLC, a multi-cultural restaurant located in Austin, Texas. It is the recipient of the Austin Best Business Award for 2016. Ms. Friedman started out working in a hospital in Altoona, Pennsylvania as a Medical Secretary and went on to train as Clinical Assistant for a neurosurgeon. She trained to become an Eligibility Worker/Case Worker for the Commonwealth of Pennsylvania. She completed workshops, giving her certificates of achievement in different categories. Ms. Friedman took the Dale Carnegie Course, winning an "Outstanding Performance Award" in Effective Speaking. Ms. Friedman has studied Belly Dancing in New York City under Serena Wilson. She has hosted a television show (under the name Phara) called "The History and Mystery of Belly Dance" and produced a Mid-Eastern Show called "1001 Nights in Olympia." Ms. Friedman is also an actress and has appeared in the films "Miss Congeniality," "American Outlaws," "The Rookie," "The Arrangement," "Going to California," "Varsity Blues," "The Life of David Gale," and "Pillow Letters." In 2008, she opened a restaurant in Austin, Texas called Phara's Mediterranean Cuisine. She has dedicated her restaurant to her late son Christopher to leave a legacy in his name.
About Strathmore's Who's Who
Strathmore's Who's Who publishes an annual two thousand page hard cover biographical registry, honoring successful individuals in the fields of Business, the Arts and Sciences, Law, Engineering and Government. Based on one's position and lifetime of accomplishments, we honor professional men and women in all academic areas and professions. Inclusion is limited to individuals who have demonstrated leadership and achievement in their occupation, industry or profession. The Times Square appearance is given to the individual who has demonstrated consistent excellence in their career. The visual celebration of this individual will be displayed on digital screens at the venerable and historical 3 Times Square, New York, one of the busiest and most high profile landmarks in the nation.