MULTI SEAL® Announces New Product Names and Packaging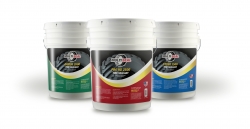 Houston, TX, August 08, 2016 --(
PR.com
)-- MULTI SEAL® Corporation, the leader in high performance tire sealant technology, announces new product names and packaging for their three main formulas. The new names include: HYDRO 1500 (formerly HYDRO SEAL), PRO HD 2500 (formerly HEAVY DUTY), and ARMOR 3500 (formerly ARMOR SEAL). Updated packaging will give the product line a more dynamic and impactful look and feel.
"As part of the evolution of MULTI SEAL®, it was time for us to take a close look at the industrial product line," says President Don Webb. "We have used the same product names and one dimensional graphics for over 30 years, and frankly the look didn't match the high quality of our products. The new names and four color labels will convey the correct message to our customers and the excitement that we have for the brand."
The new product names better describe the relative qualities and performance expectations of each product and create a cohesive family of tire sealant products, with the strength of each expressed in the sequential numbering. In addition, this change allows for seamless integration of future products.
"Ultimately, we want the new names and packaging to convey more meaning to our customers," states Webb.
Since 1981 MULTI SEAL® has produced high performance tire sealants, scientifically formulated to prevent under inflation caused by slow leaks and punctures. Using proprietary formulas and ingredients, MULTI SEAL's® products are blended in the United States specifically for industrial segments. MULTI SEAL® is the world leader in superior tire sealant technology.
For more information, visit
www.multiseal.us
.
Contact
MULTI SEAL
Mike Hallaron
800.577.3353
www.multiseal.us

Contact